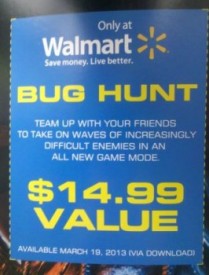 With the official release of Aliens: Colonial Marines coming in just a couple days, Sega has revealed the first big DLC add-on coming for their sci-fi shooter. Labeled "Bug Hunt" (which makes me wish it could have been called "Bug Blasters"), this "Horde"-esque multiplayer mode drops players into three brand new maps inspired by the films, where they battle wave after wave of increasingly difficult xenomorph foes.
This DLC fits in as the first part of the Colonial Marines' controversial $29.99/2400 MSP Season Pass, which will include three other pieces of additional content for nearly 40% less than if they were purchased individually.
While Sega hasn't officially announced the price of Bug Hunt, someone on the Gearbox forums recently discovered a Walmart advertisement that listed the mode as having a $14.99 value, as well as a release date of March 19th. Even more interesting is the fact a preorder from Walmart lands you the Bug Hunt add-on for free, effectively depleting a lot of the incentive for paying for the Season Pass in the first place.
[Source: The Escapist]