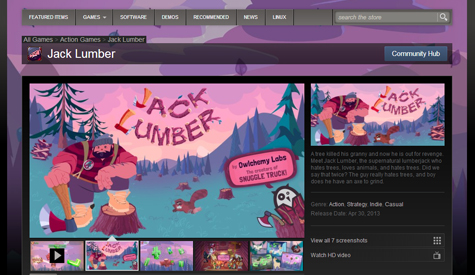 Originally published for iOS by Sega last year, Jack Lumber was a great game that didn't quite get the attention it deserved. Well, it appears that developer Owlchemy Labs wants to give the game a second chance as they have released the game on Steam for PC, Mac and Linux without Sega as publisher this time.
The basic game remains the same with the player chopping wood and getting revenge for his dear old grandmother but without the touchscreen the game was originally designed for you're now playing with mouse and keyboard. There's also the addition of a new "Infinitree" mode. The game will be priced at $7.49 but is currently on sale for $5.02.
Anyone planning on purchasing Jack Lumber on Steam? How does it play compared to the iOS original?