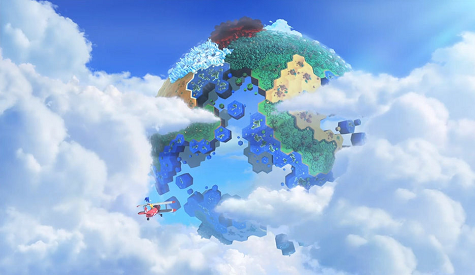 UPDATE: Sega released an official statement on their partnership with Nintendo. The statement can be read in full after the jump.
Sonic Lost World will be a Nintendo Wii U and 3DS exclusive title, according to today's Nintendo Direct.
Nintendo announced today that they have started a worldwide partnership with Sega and that more Wii U and 3DS exclusive Sonic games are on the way.
The only details Nintendo gave on Sonic Lost World is that it will be an "action adventure" game. The above screen shot was also shown. We'll have to wait until E3 2013 for more details.
Hit the jump to see the screenshot in full and be sure to leave speculative comments in the section below!
SEGA® of America Inc. and SEGA® Europe Ltd. today announced details of an exclusive partnership with Nintendo of America Inc. and Nintendo of Europe GmbH for the Sonic the Hedgehog franchise. The new agreement will make Nintendo consoles the number one destination for Sonic gaming over the next three titles.  The first two titles of the deal were announced today via Nintendo Direct, and details of the third Sonic title will be revealed at a later date.

"Sonic the Hedgehog has performed incredibly well on Nintendo platforms and this exclusive partnership is a natural fit for the next evolution of Sonic games" commented Jurgen Post COO SEGA Europe Ltd.  "The Wii U and Nintendo 3DS are ideal platforms to showcase Sonic and we are looking forward to working with Nintendo on these three exciting adventures."

Sonic the Hedgehog first appeared as a videogame character in June 1991 and instantly became an icon for a generation of gamers.  Defined by his super-fast speed and cool attitude, in the years since he first raced on to videogame consoles Sonic has become a true global phenomenon with over 75 million videogames and smartphone apps sold worldwide. SEGA's iconic blue blur has also gone on to enjoy incredible success in many licensed areas, such as toys, apparel, comics and animation.