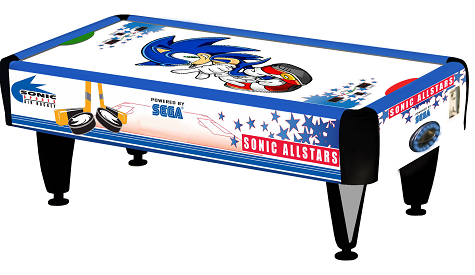 Sega Amusements have announced the manufacture of their new Sonic Sports 2 Player Air Hockey game.
I always thought air hockey was a bit of a dud. And those basketball games. And the footy ones. And basically anything sports related that doesn't involve robots. But hey, Sonic Sports 2 Player Air Hockey has Sonic on it, so there's a plus. Oh wait, that was Sega Amusement's plan all along? Sega Amusements' General Manager, Peter Gustafson, explains,
When Sonic first came on the scene the parents of the children visiting your locations were children themselves. When they see Sonic displayed on our line of Arcade Sports Games, they're re-connected to a fond memory which creates a higher perceived entertainment value. Because of this, they're much more likely to encourage their kids – who also know and like Sonic – to play a Sonic Arcade Sports Game than any generic game, often playing right along with their kids.
I like Sega Amusements. At least they're honest about their milking of the Sonic brand.
[Source: Sega Amusements]