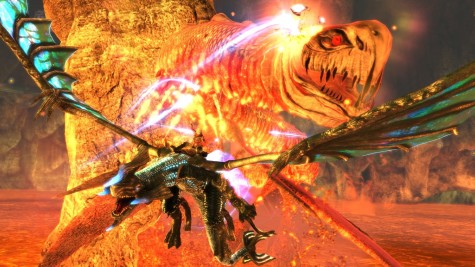 Yukio Futasugi's long-missing Crimson Dragon has once again soared into view, carrying with it a few exciting new modifications. Chief among them? The oft-requested traditional controller support.
Now confirmed to be an XBox One exclusive, this already lovely-looking title will predictably boast a whole new level of visual clarity. But that's not all according to producer Yutaka Noma,
"We are also enhancing the dragon breeding system; depending on how you do it, your dragon evolves in different ways. So your dragon might not look like mine. Ours will also have different attributes; your might be faster, but mine stronger."
But perhaps the most exciting change is that Crimson Dragon will now support regular ol' controllers–a feature that Noma says was intended all along,
"In the beginning, Microsoft approached Futasugi-san about doing a Kinect game for the Xbox 360, and he came up with a vision to do the ultimate Kinect game, with dragons[…]

We actually wanted to support both the Kinect and a regular controller in the very beginning, but it takes time and lots of work to support both. Then we got lots and lots and lots of feedback from passionate fans, who all said 'please support a controller'. Because of the new technology and added time, Futasugi-san went 'okay, let's go for it!'"
There you have it. In just two paragraphs my interest rocketed from a three to like a billion. This will certainly make the game accessible to many more players, hopefully enough to justify that Panzer Dragoon Saga-esque sequel Futatsagi hinted at late last year.
[Source: Siliconera]