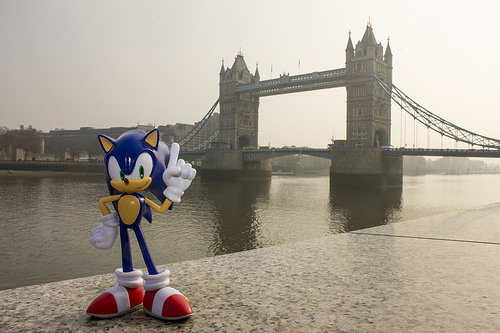 If there's one thing people on the internet are good at doing, it's taking photographs of their every day life. Well, Sega has embraced this, but added a little flare incorporating everyone's soon-to-be 23-year old hedgehog hero: Sonic.
Sege presents, "Travel Tuesdays for Sonic the Hedgehog." The idea is simple enough: take a picture of Sonic near famous landmarks, while you're eating breakfast, with your Virtua Boy strapped to his head, etc. and then send them to Sega's Facebook, Twitter (actually Sonic's twitter) Instagram, or e-mail. The blog doesn't specify where Sega will be posting all of these photos, but I assume it will be on their Sega Blog at least.
Now I'm not trying to take credit for this or anything, but I think a certain someone with a certain rock band and traveling Spider-Man plushie may have done something like this before.
Anyway, this is a great idea, and I can't wait to see what comes from it. You can bet your chaos emerald that I'll be participating.