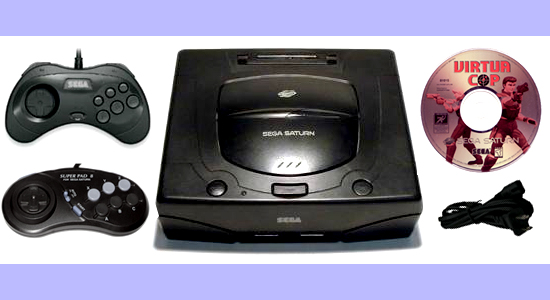 Remember on the podcast when I mentioned I found a Sega Saturn at Goodwill for $7. Well here it is and it's available for you to win! The Saturn itself comes with what you see pictured: the console, two controllers (one Sega and one third party), a power cord, and the disc for Virtua Cop. Unfortunately, there's no RF adapter or AV cable. If I find an extra RF adapter lying around I'll include it, but I can't guarantee I have one. I would recommend getting a AV cable for the Saturn anyway since the picture will be so much better. You can find them on ebay for less than $10.
How to enter:
Compose and record a song that has anything to do with the Sega Saturn. It can be about the system itself, a game, it's peripherals, etc. It doesn't matter if it's a techno remix, folk, metal, rap, etc. The recording just has to somehow be related to the Saturn.
To post your track either link to a youtube video or an mp3 file in the comments below.
The deadline for the contest is July 20th by 8:00 pm (central time).
Here's our first entry from Iain: