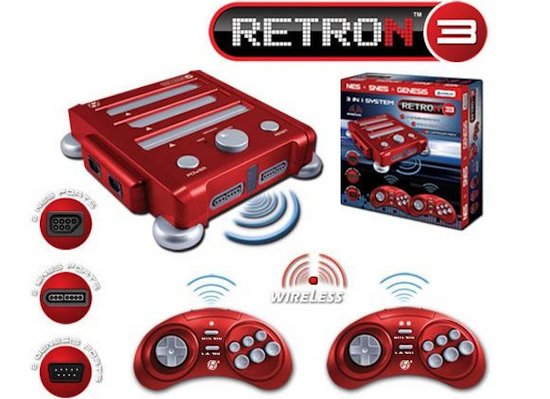 A while back we reported about a new Famiclone console that played NES, SNES, and Genesis games called the RetroN 3. I picked one up and since these bootleg consoles can be a bit of a gamble, I thought I'd let you know how it works.

At first glance, this thing is ugly as shit. I got the gray version, which is slightly less of an eyesore, but cee-RIST it is not a pretty console. It kinda bugged me but then I thought about it and really all consoles before maybe the Gamecube are ugly as sin. Check out the NES, SNES, PS1, N64, Master System, and a bunch more from around the time. The Genesis Model 2 was ok til you snapped it onto a Sega CD and jammed a 32X in there. The 'Tower of Power' looks like a PS3 was belted with radiation and got 12 types of cancerous tumors.
The controllers are more aesthetically pleasing as they are modeled after the 6-button Sega Genesis controllers. The layout is the same and the D-pad feels pretty nice, if not a little wobbly because of how elevated it is from the face of the controller. They're used as a selling point for the console because they're wireless but they barely work for crap. The two controllers use infrared lasers to communicate with the console, much like the Wiimote. This means you have to constantly be pointing the thing directly at the RetroN 3. This, coupled with the requirement of two AAA batteries that are secured into the controller by a screwed-in battery cover, make these controllers absolutely useless. Luckily the console has two ports for each original controller. I guess some people might not have all these old controllers lying around, but I certainly do. So after two minutes with the wireless controllers, I just got out some Genesis, SNES and NES paddles to get my game on.
Being the retro gamer and old fogey that I am, I tried the NES port first with Fester's Quest. After decades of being trained to hover over an NES console after pressing the power button, because you WILL have to hit it a number of times and finagle with the game cart, I was pleasantly surprised when the game turned right on. I was immediately greeted with that awful, awful opening screen to Fester's Quest, one of the worst games ever made. Now, I didn't PLAY this game, because it sucks. So I switched it out for Bubble Bobble, one of my favorites. And it worked great! I played through about 55 levels without any issues. I also popped in Ninja Gaiden 2, because it was the only other NES game near me and it worked fine too. The NES port on the console is a success.
Next up was SNES with A Link to the Past. Again, worked great. I tried a stack of games including Street Fighter 2, Mario All-Stars, Mortal Kombat and Wing Commander. I only had to jiggle and fiddle with a couple of them but it was the cart's fault. Take care of your classic games, kids. Also, if you look into the SNES cart port, you'll see that it doesn't have the two tabs that keep the American Super NES from playing Japanese import games. Curious, I grabbed my copy of the Japanese-only release Mickey no Tokyo Disneyland Daib?ken for the Super Famicom. It worked! This can keep you from having to open up your SNES to mod it and potentially damaging the console and it opens your library to a huge list of games that never made it to the states.
Saving the best for last, it was Genesis time with Sonic, Sonic 2, Sonic Spinball and Aladdin. They all worked great but it certainly didn't make Aladdin any easier. That Cave of Wonders level is still shit hard. The only problem I had with all three of the ports is they don't guide the cart very well. You'll find yourself wiggling the game around inside the console and worry you might damage the cartridge if you try and jam it in there. Just be careful and everything will be fine. The console flips from which platform you'd like to play by that round dial on the front of it. The three settings are NES, SNES and Genesis but then there's a mysterious unmarked FOURTH click. I have yet to figure out what this one does but I hope it can turn me into Captain N. Or at least get one of those bitchin' jackets.
The SNES is probably the most comfortable console to use because the controller ports are right on the front. The NES ports are to the left and Genesis to the right. So if your consoles are in a tight space, you could have some issues. This probably isn't a problem, though because by virtue of what it is the thing is a wonderful space saver. We retro gamers always have problems with space because we need all our consoles hooked up all the time or we're constantly switching them out. With a RetroN 3, you can pack away your Genesis, SNES and NES or keep them on display somewhere else. This also brings up the moral issues of owning a Famiclone. Many purists refuse to play a game on anything other than what it was built for. I don't like using emulators or even Virtual Console unless I have to. If I want to play a game I will always make an effort to hunt down the cart first.
The main issue with Famiclones and best reason for their existence to me is that eventually there won't BE any original SNES, NES or Genesis's that work any more. With these bootleg consoles, we can prolong the lifetime of some of our favorite classic games. I want to give my kids Earthbound and Gunstar Heroes to show them that games have a history. Some people believe that games aren't taken seriously as an artistic medium because we don't have enough of a history but this isn't true. It's just difficult to see when you can't find or play any of the titles that built the medium. If I walk into a Best Buy I can buy Citizen Kane, Gone With the Wind, and Robocop on DVD and showing them to someone is easy as popping them into your DVD or blu ray player. Unless we all work to keep old games alive, their history can be lost to the ages. Luckily there have been people like the now defunct Lost Levels and the Video Game Museum in Paris to preserve classic games. I think Famiclones are a great thing and hope to see more of them in the future. I can't wait til someone makes a handheld that can play every Game Boy and Game Gear cartridge.

A
Buy it: It may be ugly as Christ but this little space-saver will make being a retro gamer easier than ever before.