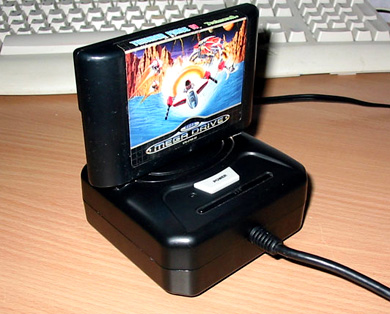 Sup, SEGA homies! Time for games o' da week!
Matthew Jay writer of 10 Things That Aren't Sonic and Radvertisements:

After playing both versions of The Adventures of Batman & Robin for SNES and Genesis I did some non-SEGA Addicts related gaming with some games I picked up off of Craigslist. For 10 bucks I got Super Mario Land 1 and 2 and Tetris. That's what you call a Craigslist hookup. Right?
Andrew Galbraith writer of Contemporary Alternatives and Miscoded Confidence:

Been getting my Halo: Reacharound on for a bit now and to be completely honest, I'm glad I haven't written up my review for it yet because ultimately, I'm not sure how I feel about it. Everything seems solid, including the online douchebagery. In the meantime, been playing a ton of Jurassic Park on the Genesis, if for no other reason than I can be a Raptor devouring puny humans. Well, if you'll excuse me, I have to go walk the dinosaur again. Rawr!
Bret Hatfield community manager and writer of Megadriving:

Had an amazing (to the rest of you, "boring", for whatever reason) Tekken session last night/this morning with a couple of my favorite people ever. Best experience I've ever had with the series, by FAR. Also got around to playing Alpha Protocol, finally. I'm not sure how I feel about it yet.
Stevie Grant writer of Top 10 Worst and Reviews of Games I Haven't Played:

Nothing much. I've just been boring this week, searching my soul and life for meaning, taking long walks and contemplating life and love. Oh and I played Madworld where you have a chainsaw  on your hand and get to kill a fuck ton of dudes boom boom awww yeah. But yeah, I picked up Madworld again and finally got passed a boss I couldn't do for ages. So I'll probably finish that off in the coming week. That's all for now, kids!
Alex Barbatsis writer of Retro Reviews and Freaky Fridays:

I played Mario Galaxy 2.  Dear Sega, please make games like this.  Sonic Colors looks promising though.  Also some dreamcast action, most notably Sonic Shuffle (in a horrible, no good way.)  I also have switched my diet to replace one meal with bowl of oatmeal. I'm getting cut as shit.
Alexander Sargeant writer of Retro Reviews:

That aside, mostly just Ys Seven, because I realised that Valkyria Chronicles II will probably never end and it's more likely I'll be able to finish Ys so that I can get to ZHP or even Cladun sometime soon. Enjoying it a lot more now that I seem to have incredible, almost broken levels of power, and since I've started finding new weapons to turn Adol's damage type from Piercing, Slashing or Striking I've been able to completely switch up the formation of my party. Very enjoyable, and somehow hasn't quite overstayed its welcome for an entry that's thrice the length of earlier Ys games.
Pat Reddick Community Manager and writer of Not So Classics and Forum News

I need to drop some courses to get more time to play video games. All I've played in any non-trivial way was Panic! I'm still chipping away at Bayonetta from time to time, but I usually only play it for a few minutes at a time until I die. I think I've said this before a few weeks ago. God, I'm boring too.
Alex Riggen Editor in Chief and podcast host:

All I've played this week is Phantasy Star Portable 2. I like it.
Kris Knigge reviewer and podcast co-host:

What Alex Riggen said. And Valkyria II. I like that, too.
That's it for the people whose opinions matter. What have YOU been playing?