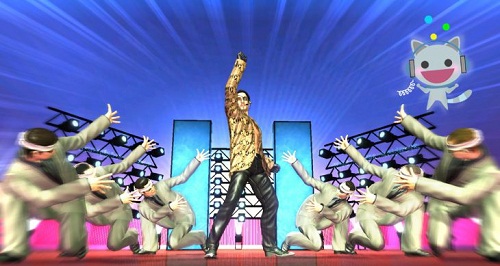 I'll be entirely honest, I didn't even touch the CD that came with the international release of Yakuza 3. This however I would touch in ways that would be taboo in many social circles.
Yakuza Of The End will be releasing in Japan this March, and to accompany this will be a CD with music taken from the game itself. Fairly standard stuff, however this CD is composed of the hilarious songs from the Karaoke mini-game, which has been a staple of the series for a while now. It features 10-tracks, all of which are sung by different members of the cast in-character.
This is especially great as Of The End has Kazuma, Majima, Haruka, Akiyama and Goda all performing at least one song each, including a few duets, which sounds pretty entertaining. These also involve the character 'Hana' voiced by Aya Hirano, but I don't seem to remember who she is, although given the massive cast-list of the five released games so far that's hardly surprising.
The KARAOKE BEST SELECTION will be bundled with pre-orders, so be sure to place your order early intrepid importers if you don't want to miss out! Here's hoping this survives the localisation too.