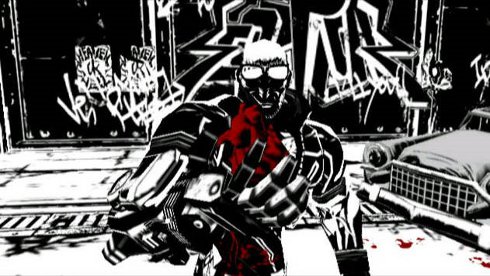 [Update: As Sega of America points out this game will be titled Anarchy Reigns for us in the West.]
Remember about a month ago when Platinum Games announced it was working on a fifth game for Sega? Well Famitsu has the first details on this game. It's titled Max Anarchy and is an online combat game. In case you didn't guess from the header image, Jack from Madworld will be a playable character, but this time he'll be in full technicolor!
Never heard of the genre online combat game before? Well you're not alone. Producer Atsushi Inaba said in an interview with Famitsu, translated by Anoop Gantayat of andriasang.com, that the genre of "Massively Multiplayer Melee Fighting Action" doesn't even exist yet.
Game modes are to include a free-for-all violence mode and several co-operative modes. It's not all about the multiplayer though, the game will also feature a non-trivial offline story mode.
The details are still fairly vague because this game was unofficially announced as part of an interview with Inaba about Platinum Games as a whole. That means keep checking back to Sega-Addicts as more information on the game rolls in.
Despite the overall lack of information Platinum Games is aiming for a worldwide simultaneous release in Fall 2011. The game is set to be released for Xbox 360 and PlayStation 3.
[Sources: Andriasang Announcement, Andriasang Interview]