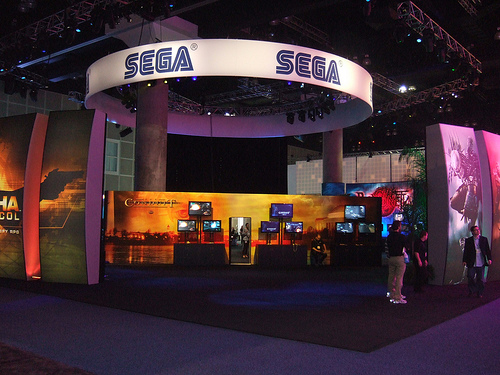 Well it's that time of year again. E3 is right around the corner and Sega has finally revealed everything that will be shown there. So I won't keep you from finding out. Hit the jump to read the announced list of games being showed at this year's E3!
[Source: Sega]
Aliens: Colonial Marines™ (Xbox 360®, PlayStation®3 system, PC) – Launch Date: Spring 2012

From the award-winning first-person shooter powerhouse Gearbox Software comes Aliens: Colonial Marines, the highly anticipated horror-based action FPS set in the Aliens™ universe with cooperative multiplayer at its core. Bringing new levels of bone-chilling suspense and adrenaline-filled action to the renowned franchise, the game pits players against the universe's ultimate alien killing machines, the Xenomorphs, in claustrophobic environments guaranteed to produce horrifying shocks and surprises.


ANARCHY REIGNS™ (Xbox 360®, PlayStation®3 system) – Launch Date: January 2012

ANARCHY REIGNS is the much anticipated next title from critically acclaimed developer PlatinumGames. With ANARCHY REIGNS, PlatinumGames will be using their hallmark creativity and technical excellence to challenge the boundaries of the conventional brawler genre by allowing multiple players to get involved in heavy-hitting action simultaneously. ANARCHY REIGNS incorporates a diverse range of multiplayer modes to provide players with different challenges, including a co-op survival mode and an all-out Battle Royal mode, where players can challenge others in a full-on fight for victory. Additionally, all modes will be available as offline single-player experiences as well. In the single player campaign mode, players can choose between Jack and Leo for different story experiences.

Binary Domain™ (Xbox 360®, PlayStation®3 system) – Launch Date: Early 2012

Binary Domain is an original IP by Toshihiro Nagoshi, the creator behind some of SEGA's most well-known video game franchises, including the critically acclaimed Yakuza series. The atmospheric squad-based shooter puts players in the middle of a fast-paced and intense battle against hordes of deadly robots, and a secret that could threaten all mankind. Fighting upward through the derelict lower levels of 2080 Tokyo into the beautiful upper city, players control an international Special Forces squad, specializing in covert ops, which sets out to battle to the heart of the crisis.


Captain America™: Super Soldier (Xbox 360®, PlayStation®3 system, Wii™, Nintendo DS™, Nintendo 3DS™) – Launch Date: (US) July 19; (EU) July, 15, 2011; 3DS in Fall 2011

Become Captain America™, the ultimate Super-Soldier, in the darkest days of World War II as you face the Red Skull and his army in this epic third-person action adventure. Wield Captain America's legendary shield to take out multiple enemies at once, deflect incoming fire back at your enemies, solve puzzles, and scale walls. Above all, hurl yourself shield-first into the fray, with the superior force of the world's first Super-Soldier at your fingertips. Engage in devastating open combat and acrobatic platforming to infiltrate Hydra's massive and mysterious castle complex and battle the infamous Iron Cross, the forces of Hydra, and a host of nefarious enemies serving the Red Skull in an all-new Captain America story and adventure.

CRUSH3D™ (Nintendo 3DS™) – Launch Date: (US) September 6, (EU) September 9, 2011

Redesigned for Nintendo 3DS, CRUSH3D is the unique platform game that gives you the ability to change perspective from 2D to 3D as you try to solve brain-teasing puzzles. Built on the foundation of the award winning CRUSH™, CRUSH3D features a host of exciting new features specifically designed for the Nintendo 3DS system, including new locations, characters and an intuitive hint system. Navigate across the surreal platforms of Danny's mind by 'crushing' your way from a 2-dimensional to a 3-dimensional world and back again whenever you need to.

Guardian Heroes™ (Xbox LIVE® Arcade, PlayStation®Network & Steam) – Launch Date: Late Summer 2011

Coming exclusively to Xbox LIVE® Arcade, get ready for more swords and sorcery than you can shake your magical staff at. An ancient evil threatens the world after years of peace. Step into the shoes of one of five mighty heroes; each with their own unique attacks and customizable stats. As you fight through forests, graveyards, castles and volcanoes, your every decision will decide the ultimate fate of the world. Do you have what it takes to be a Guardian Hero? Due out this summer, Guardian Heroes features Co-Op and Online play for you and your friends, multiple game modes, optimized graphics, and brand new achievements for Xbox LIVE®.


House of the Dead: OVERKILL™ Extended Cut (PlayStation® Move for PlayStation®3 system) – Launch Date: (US) October 25, (EU) October 28, 2011

The pulp-style reinvention of the classic light-gun shooter comes to the PlayStation®3 in this exclusive Extended Cut with an avalanche of new content including brand new levels, weapons, mutants and more. Experience the over-the-top, mutant blasting madness with your PlayStation®Move motion controller for PS3 all in stunning 3D and re-mastered HD graphics.

Mario & Sonic at the London 2012 Olympic Games™ (Wii™, Nintendo 3DS™) – Launch Date: November 2011 (Wii™), February 2012 (Nintendo 3DS™)

Mario™ and Sonic™ will once again join forces on the Wii™ home video game system and, for the first time ever, on Nintendo 3DS™ as the much loved duo head to London to participate in the officially licensed Olympic-themed video game, Mario & Sonic at the London 2012 Olympic Games™. A host of exciting new headline events, including Football and Equestrian will debut on the Wii version appearing alongside classic Olympic disciplines, such as Athletics, Aquatics and Table Tennis. The new handheld system from Nintendo will bring a whole new dimension to the Mario & Sonic universe with glasses-free 3D visuals and around 50 original Olympic themed events playable using the unique control systems of the Nintendo 3DS.

Renegade Ops™ (Xbox LIVE® Arcade, PlayStation®Network, PC digital download) – Launch Date: 2011

Created by Swedish developer Avalanche Studios, Renegade Ops will unleash unprecedented mayhem and exhilarating destruction. Players are sent behind enemy lines in a mobile commando unit to defeat Inferno, a madman intent on global domination. Defeat enemies across a range of stunning environments using a wide variety of vehicles and weapons, from dispersing electromagnetic shock waves to the deployment of a huge Gatling gun armed to the teeth. Players have the choice to fight alone in single-player mode, team up offline with two-player split screen or join the dynamic 4-player online co-op experience.

Rise of Nightmares™ (Kinect™ for Xbox 360®) – Launch Date: TBA

Rise of Nightmares offers a spine-tingling horror experience unique to the massively successful Kinect. Using their whole body the player will experience fear and tension as never before in this first-person horror adventure. Fight off hordes of undead creatures and mad scientists in this uniquely horror themed adventure that sees players desperately searching for their kidnapped wife.

SEGA Rally Online Arcade™ (Xbox 360®, PlayStation®3 system) – Launch Date: Out Now on Xbox LIVE® Arcade, Coming Soon on PlayStation®Network)

When was the last time you enjoyed getting dragged through the mud? Race through five different types of terrain in more rally-bred vehicles than a baker can shake his dozen at – including the Ford Focus RS, the classic Lancia Delta Integrale and the ferocious Bowler Nemesis. Play through a slew of modes including Time Trials, Single Races, and Championship Events. Cut to the chase and face off online in a variety of 6 Player multiplayer racing events – isn't it about time you showed your friends who's numero uno?

Shinobi™ (Nintendo 3DS™) – Launch Date: September 2011

Shinobi for the Nintendo 3DS sees the eagerly anticipated return of the legendary Shinobi. We follow our hero, Jiro Musashi, through a wide variety of exotic locations as he battles his way past hordes of enemies using magical Ninja powers in this intense action-filled title. Shinobi will include some classic gameplay elements found in previous Shinobi titles, while introducing several exciting new features and experiences specifically designed to take advantage of the technology offered by the Nintendo 3DS system.

Sonic Generations™ (Xbox 360®, PlayStation®3 system, Nintendo 3DS™) – Launch Date: Holiday 2011

Delivering the definitive gaming experience for Sonic fans old and new and part of the celebrations for Sonic the Hedgehog's 20th Anniversary, Sonic Generations sees Sonic the Hedgehog playable as both the much loved classic 1991 character, and the modern day video game hero he has become. In this exciting new fast paced adventure set across three defining eras from 20 years of Sonic the Hedgehog, you can now speed through some of the most iconic environments, playing as Classic Sonic in re-imagined 2D side scrolling levels, and as Modern Sonic in all new, stunning 3D levels.
Of course we can probably expect some surprises too as the convention takes place. But so far this is an awesome list. Looks like Sega has some great treats coming our way soon.