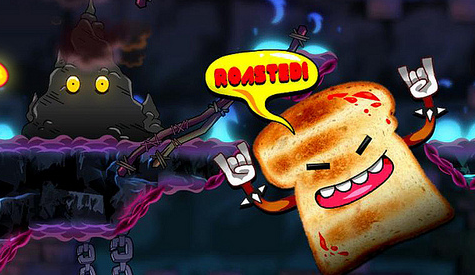 That's right, Sega and developer Arkedo hope to make the inevitable apocalypse following 2012 a little more bearable with their upcoming 2D platformer Hell Yeah!, a game "designed to clear your mind, put a smile on your face and bring a little bit of peace to mankind.". And to make the wait for the game's summer release a little more bearable, they've made an announcement via the Sega blog detailing the game's numerous stress-relieving features including "Finish Him" moves, 10 game worlds and a pimpable drill.
Well, it's got my interest peaked, how about yours? Check out the full details after the jump!
[Source: Sega Blog]
Kick-ass features this game definitely has:

• Tension-relieving faux-gore action – Hell Yeah! helps you clear your mind after a bad/frustrating/boring day at work. Achieve this by exploring the four corners of Hell and exterminating monsters in a cheerful yet challenging atmosphere.

• Drill to kill – shooting is fun but shooting from a super sawing jetpack that can drill through walls and squash monsters into chunks is better. Hell Yeah! gives you full frontal violence in your face.

• This game is too BIG for you – 10 huge game worlds with secret areas and side quests, hundreds of objects, weapons and monsters to collect. If you're a completionist, you're screwed man.

• Help us make Hell a cleaner place – there are 100 unique monsters to exterminate in Hell Yeah! Some are rude, others are really ugly but they all equally deserve to DIE!

• "Finish him" moves that will make your mama cry – inflict ultimate humiliation on the monsters of Hell using over 25 deadly "Finish him!" mini-games.

• Pimp my drill – collect loot and spend your cash in big shops where you can buy bigger guns and awesome upgrades for your ride. The donut driller skin and the 'Sploding Carrot Missile Launcher make a lovely combo.

Hell Yeah! Will be available on XBLA, PSN, and PC Digital Download this summer.