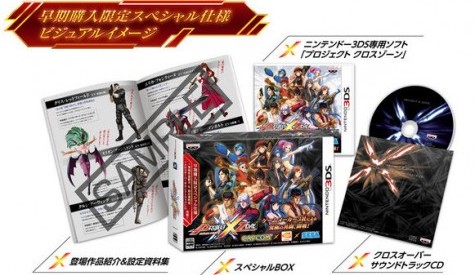 The perpetual tease of this currently Japan-only RPG mash-up just got kicked into high gear. I know a lot of folks here at Sega Addicts are pretty apathetic about this one, but any cross-library Sega or Capcom game is going to get my attention. I was coming to terms with the fact that I will probably never see this in the US, but this new bit of info has sent me from plain ol' vanilla jealous to supes jelly overnight.
First off, a handful of new characters have been revealed for the game, and much like the previous batch, they look like they cater to the Japanese gamer more than anyone else. These new characters include Imca from the Japan–only Valkyria Chronicles 3, Arthur from Ghosts 'n Goblins, Flynn from Tales of Vesperia, Devilotte from Cyberbots, and Rikiya Busujima from Zombie Revenge. What?! A character from Cyberbots?! A CHARACTER FROM ZOMBIE REVENGE?! GIVE ME. And even if that doesn't pique your interest, Project X Zone is promised to have over two hundred characters in its roster, so you're bound to find a party you like. I'm sorry, let me bold-face that for a sec: this game will have over two hundred characters.
It has also been revealed that the first print run of Project X Zone will be a special edition version that includes a booklet with character intros and a "crossover soundtrack CD." No need to preorder or pay extra, as these will be available to anyone buying the game in its first print run.
Finally, the Japanese release date has been announced as October 11th, and to celebrate I have marked off an official "Fold my arms, stomp around my apartment and pout all day" holiday on the same day. HUMPH.
[Source: Destructoid and Andriasang]