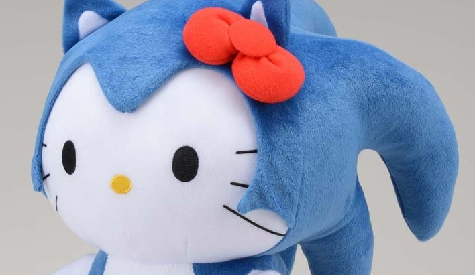 Sega and Hello Kitty creator Sanrio have joined forces in an attempt to achieve an age of world peace using a series of super-adorable character crossover plushies to warm the hearts of all the world's leaders. Okay, I may have made some of that up, but there is no doubt that the above Sonic/ Hello Kitty plushy is the most cutesy-poo thing we've seen on this site for some time now.
The toy, officially named the 'Sonic x Hello Kitty Super Jumbo Plushy', is the first of a series of character collaborations between the two companies, with this particular toy commemorating the July 14th reopening of Sega's Joypolis amusement park in Tokyo. Sega have stated that the Sega-Sanrio collaboration project will be staged globally in the summer of 2013.
With so many Sega characters to cross with the many Sanrio ones, who's to say what will emerge from this project? More toys? Animations? Games…? A full image of the plushy can be seen after the jump. Be sure to leave a comment below!
[Source: Andriasang]