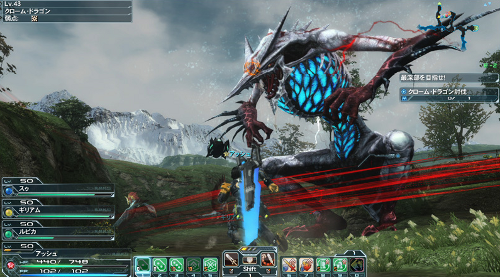 With the games North American and European releases coming into focus it's hard to forget that Phantasy Star Online 2 has been making it's way in Japan for almost a year now. As such it's been a while since Japanese gamers got new content for it, so luckily Sega has added a bunch of new stuff in the MMO's most recent update. The main new features are a new awesome looking boss (dubbed the 'Chrome Dragon') and a host of new weapons that were added to the mix. The new items consist of assault rifles, partisans, and a fancy new rod to play with (heh) ensuring that players will have a lot more to try out with this new update.
But wait! There's more!
The Playstation Vita version will be getting a new story section for the game entitled 'The First Farewell' that will explore the new boss featured. It is also set to detail the disappearance of Kuni, Phantasy Star Online 2's in-game mascot. The new exclusive PC content however is the less story driven 'Arks Combat Tournament', which looks to be a less plot focused score attack mission.
The new boss is all dependent on triggering cut-scenes and achieving specific conditions. Sounds fun and all but this is just making me even less patient now for the game over here. Alas, we here at Sega Addicts will be detailing the new stuff made available for us when we get to play Phantasy Star Online 2 later this year. Just a couple more months to go!
[Source: Siliconera]