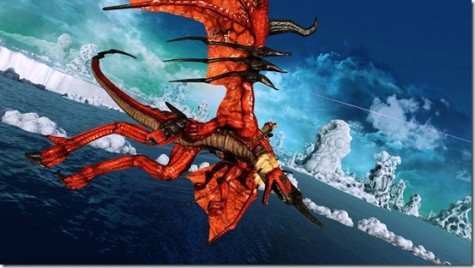 The upcoming Kinect game Crimson Dragon may be carrying Panzer Dragoon's on-rails torch, but as creator Yukio Futatsugi recently revealed, the sequel could still bring us a spiritual successor to yet another long-forgotten, but much adored, Sega title–Panzer Dragoon Saga.
In an interview with GamesTM, Futatsugi suggested that if Crimson Dragon were to continue past the first game, he'd like to drop the simplified on-rails Kinect controls and multiplayer focus in favor of a fleshed-out story in an open world, much like the beloved Saturn RPG:
…Of course we can't make an open-world RPG on an Xbox Live game development budget, but I want to make a game that feels like an open world, but has a very focused story. So I want to combine them using different thinking to make a Crimson Dragon RPG…

…Because Crimson Dragon was designed as a multiplayer game, we couldn't have a single character focus. But in Crimson Dragon RPG we would have a strong main character. In the shooter, players learn about the world and who the enemies are. If I make a 'Crimson Dragon Saga' it would directly connect to the ending of the first Crimson Dragon. The shooter is just a prologue to the bigger story. So if you want to see a Crimson Dragon RPG, you should get the original Crimson Dragon so you can see the story. And if I make a Crimson Dragon RPG, I don't think it'll have turn-based battles. It'll be like the original shooter with action-RPG elements."
Of course, this is all just idealist talk, but that doesn't mean it isn't ridiculously exciting. Even as someone who has only just gotten the opportunity to even touch a copy of Saga, I can say that this is a boon to all the fans that have longed to play one of gaming's most elusive and prohibitively expensive must-play titles.
I just wish I had a Kinect so I could actually offer my support for the sequel.
[Source: GamesTM]