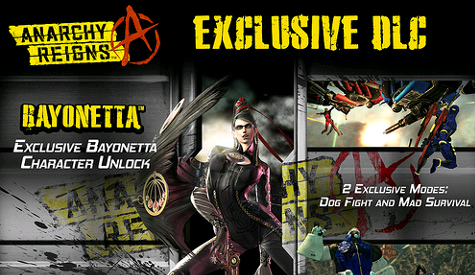 European gamers who place pre-orders on Sega's multi-player brawler Anarchy Reigns will receive a 'Day One Edition' which has so far been revealed to contain three pieces of exclusive DLC. The first two are multiplayer modes named 'Mad Survival' and Dogfight'.
Mad Survival sees a select group of players fending themselves from wave after wave of opposing players while Dogfight has players dangle from helicopters while shooting each other down. Fun for the whole family!
The third piece of DLC will undoubtedly be the most attractive as it will unlock Bayonetta, the main character from the well received game Bayonetta,  as a fully playable character. This Day One Edition has so far only been announced in Europe but it's safe to assume that information on special editions for other territories are on the way.
With Anarchy Reigns' astonishingly low retail price there's little reason to get the pre-order version. This being said I'm a little saddened to see Bayonetta as a pre-order exclusive character only. Sure, she may be released later as paid for DLC, but isn't she worth being in the game proper? Let us know in the comments below!
[Source: Gaming Blend]