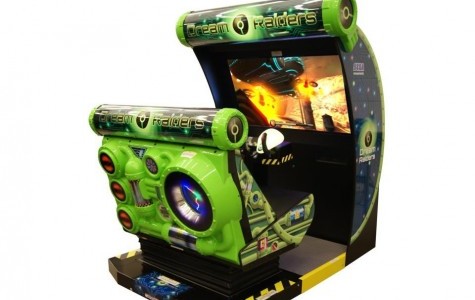 The arcade scene may be a shadow of its former self, but that isn't stopping Sega from giving us new things to anticipate. Their latest game, a cabinet that mixes the movement and wind effects of sit-down "ride games" with simplistic shooting and ever-changing environments, is now playable in US arcades.
I doubt I'll ever get to see one of these things in action, but the Inception-inspired premise and Mountain Dew-looking cabinet design definitely piques my interest. Has anyone gotten to see one of these in the wild yet?
Hit the jump to see the full press release and Dream Raiders trailer.
[Source: Arcade Heroes]
Press Release
For Immediate Release
www.SegaArcade.com

DREAMS DO COME TRUE…

Sega Dream Raiders 55" Two-Player Motion Based Theatre Cabinet is here and Available for Immediate Delivery
London, United Kingdom 15 January 2013 – SEGA, the company that brought you a long list of blockbuster Theatre Cabinet Games including House of the Dead, Jurassic Park, Confidential Mission Force, and Let's Go Jungle introduces their latest Theatre Cabinet Game, Dream Raiders… and this one moves.

About Dream Raiders – Game Play
Dream Raiders takes players on a wild ride through one of 9 different dream sequences filled with high speed action. Ride a dragon, pilot a UFO, get on horseback or put on your super suit and head for the skies! Dream Raiders features an exciting mix of exhilarating experiences that everyone will enjoy. The combination of intense motion, wind, sound and visuals combine to give players everything they ever dreamed of!

"Dream Raiders creates an extremely immersive and interactive gameplay experience," said Sega Sales Manager, Vince Moreno. "The inclusion of a seat mounted, force-feedback blaster engages players like no other ride themed game. In Dream Raiders, players are active participants that have to battle monsters and blast through obstacles. Players become much more connected to the gameplay than in other ride themed games."

The seat mounted, force-feedback blasters are a unique feature to Dream Raiders. "The blasters are attached to the motion-based seat," continued Moreno. "The benefit of this is that the blaster stays in the same position relative to the player regardless of the motion of the seat. It delivers a much more comfortable game play experience that leaves players feeling more in control of the action."

Click here to see some of the exciting video from Dream Raiders.

About Dream Raiders – Cabinet Features
"Dream Raiders is one of the most attractive presentations ever created by Sega," stated Sega President and COO, Paul Williams. "The combination of extruded plastic cowlings, multi-colored LED accent lighting, back-of-seat plasma display, and multi-colored internally lit LED player-controlled blasters creates a visually striking package sure to draw attention in any location."

In addition to the "eye candy" created by its cabinet configuration, Dream Raiders also boasts:
? In-Seat Sub-Woofer – players will feel the action
? Motion-based, 2 player bench seat with reliable electric motors and gears rather than costly actuators
? High-powered fan that furthers the illusion of flying through space
? 55" HD LCD monitor delivers crisp and clear high-def graphics
Assembled Dimensions
D81" W63" H87" 1385lbs
D2050mm W1590mm H2200mm 628kgs

For More Information About Dream Raiders
Dream Raiders is available for immediate delivery. Contact your Local Authorized Sega Distributor or Sega Sales representative for more information about these exciting offers:
Tom Keil: (704) 817-7294 or Tom.Keil@SAU.Sega.com
Vince Moreno: (224) 265-4271 or Vince.Moreno@SAU.Sega.com
Pete Gustafson: (224) 265-4281 or Peter.Gustafson@SAU.Sega.com
About SEGA Amusements
Serving markets across the globe, SEGA Amusements is a wholly owned subsidiary of SEGA Corporation, Japan. SEGA Amusements is an industry leader in creating state-of-the-art interactive video, photo-tainment, self-contained merchandisers, kiddie rides and redemption games. Products range from single-player upright video games, to self-contained merchandising games, to multiplayer attendant operated simulators.