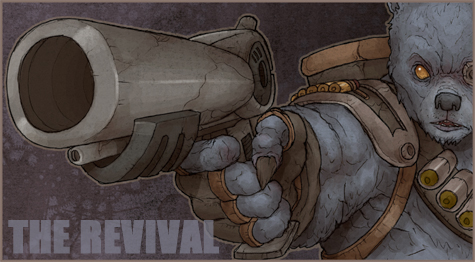 Captivating article title, isn't it?  Read on to go back to those days of eating sugary cereal and watching cartoons on those early Saturday mornings!
Yes!  Sega Addicts' own Tom Kyzivat (hey, that's me!) has joined forces with Hound Comics to give you The Revival, a post-Apocalyptic comic book in which all the characters are references to 80s toy and cartoon properties.  For instance, the "grumpy bear" that welcomed you to this post is playfully known as The Pessimist.
The comic is available now through Hound's online store, and if you don't feel like paying the shipping charges, you can buy a digital download on Amusedom.com, and will be available soon on Amazon.com.  You can also check out a preview of the first six pages of the comic on Hound's site, as well as take a gander at the concept art that sparked the comic on my DeviantArt account.
In case you're wondering what all this has to do with Sega, the comic itself is chocked full of 80s characters and references, many of them hidden as Easter eggs in the background.  Included are references to Atari, Nintendo, and (you guessed it) Sega!  And there will be plenty more treasure to find as the story goes on.
Here's the official story pitch:
Welcome to The Red Age—an era ravaged by the tyrannical rule of Ego, a strange, blue pygmy, who, using a long-lost puzzle cube, stands ready to unlock an ancient evil.  But what is the source of his power?  What of the legendary giant robots that were believed to wage their ancient wars on our lands?  What of the mysterious magician who fled the kingdom to hide in his skull cave?  And what of The Revival, a rag-tag resistance, led by the stalwart woman known only as "Red"?  They're going to take back what was theirs, and it's going to be one berry rough day.
There you have it!  I hope everybody who checks it out has as much fun reading it as I did making it.  It's a love letter to my childhood, and to that wacky decade that made no sense, the 1980s.  I guess that's it for now…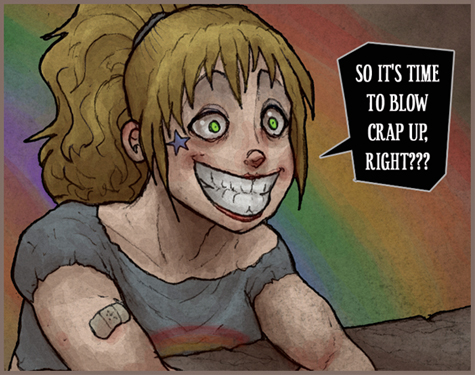 Yes it is, Rainbow!  Go nuts.