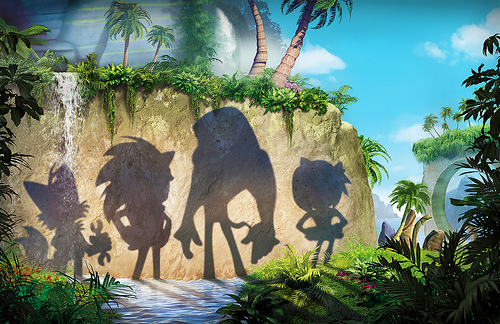 It's been a while since we've heard anything about the tentatively titled cartoon, Sonic Boom. Yesterday Sega released a large amount of information and I for one am very intrigued.
The show won't fit your regular half-hour time slot, but instead each episode will be 11 minutes long, with 52 episodes in the works. Sonic Boom will debut in the U.S. on Cartoon Network, and on CANAL J and GULLI in France, with more global outlets to follow.
The description on Sega's blog goes on to say that the show will involve Sonic, Tails, Knuckles, and Amy during their, "never-ending search for adventure, and their battles with Sonic's arch-nemesis, Dr. Eggman." So, nothing new plot-wise, but I'm perfectly fine with that. This will however, be Sonic's first CG-animated cartoon, and involves members on the creative teams from interesting backgrounds involving The Simpsons and even Drawn Together. The website also goes onto mention that Sonic will fight familar enemies as well as some new ones. With the show based mainly around comedy, part of me wishes for the return of Scratch and Grounder.
I'm excited to see how this cartoon turns out. The Knuckles fan in me worries as to why his silhouette is gigantic compared to everyone else, but it's nice to see the classic loop in the background. And did I mention we haven't heard a trace of Shadow mentioned? Always a good sign.
Check out Sega's Blog for the full low down, and let us know if you are ready for Sonic's 5th entry into cartoon land.