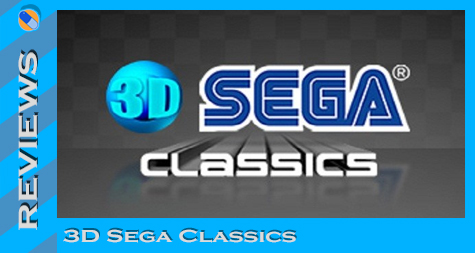 Rather than release 6 reviews over a period of time covering retro games a bit more in-depth than some would think necessary, we thought we would get right to the nitty gritty and tell you whether or not these 3D Classics are worth your time. That in mind, Anthony, and I (ScottyMo) sat down with all of them to figure out what all the hype was about. Take it away, Anthony!
We live in such times in the video game industry where ports and re-releases of classic (and sometimes not-so-classic) games are quite a common thing. So when hearing about Sega 3D Classics you might roll your eyes so hard you'll see your own brain. And that might be one of the biggest mistakes you would make in your sad pathetic life. Nah, I'm just kidding. You're pretty good, our dear reader. Not as good as Sega 3D Classics, though.
If you've been keeping your eye on Siliconera's interviews with Naoki Horii and Yosuke Okunari, you know how much work and care was put into so-called simple ports. M2, the developers of Sega 3D Classics, not only made the jump for such arcade beasts like Galaxy Force II to a portable console possible, they made 3DS ports into the definitive versions of our favorite games.
Since most of the games on the list are such well known classics, we decided not to give each one a separate review and just wait until all of them got released. That way we can give you a compilation of our impressions for every game. Gentlemen, put your 3D glasses on. (Wait, it doesn't make any sense. 3DS don't need not silly 3D glasses. Oh well.)
Galaxy Force II reviewed by Anthony Pershkin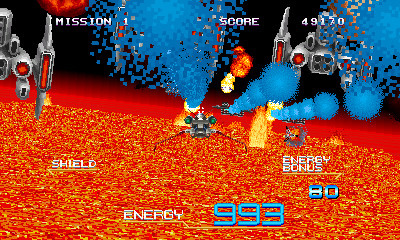 In my mind Galaxy Force II never really made a successful jump to home consoles due to its unbelievable cutting-edge visuals. No console at the time could handle such a beautiful monstrosity of DEM GRAPHICS. Genesis version was sad and awkward at best, and downright unplayable at worst. But don't you worry, my friend. The magician lords of M2 ported the right version – the arcade version. And holy ice cream balls does it look good!
Perhaps it's a bit weird to start with praising the visuals, but it's the most important feature of the game. Galaxy Force II is the best example of Sega "Super Scaler" technology at work. You have to see this glorious spectacle of shiny sprites for yourself. I can't even imagine how people lived their lives after witnessing such miracle in 1988. Add to such extraordinary eye-candy a stereoscopic 3D at 60 fps and you're going to need to buy a new pair of pants. Damn! I got too excited just thinking about it.
Other than that, it's a decent coin eater kind of space shooter. You blast your way through 6 levels by shooting enemy ships with cannon fire and lock-on missiles, and by blowing up a Death Star at end. Think Star Fox meets Panzer Dragoon. Nothing too special, but still pretty fun. The difficulty is not very fair, but thanks for the inclusion of stats-tweaking option, you might get through this hard game with fewer problems than people in 1988.
How good is 3D? AMAZING!
New features:
Options-tweaking
"Arcade cabinet" mode
Support of Circle Pad and Circle Pad Pro

Shinobi III reviewed by Anthony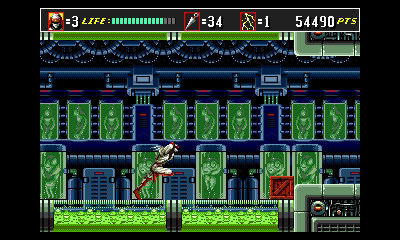 In preparation for the recent article I wrote called Skill Up, I've been playing a lot of Shinobi 3DS. Being sort of like a spiritual successor to Return of the Ninja Master, I've been wondering how does it compare to the original game. Is Shinobi III still as good as I remember? The answer is yes.
It always baffled me how Shinobi III exists in the shadow of Revenge of Shinobi, which in my opinion is inferior game. Don't get me wrong, I like me some Revenging…
(okay, I seriously had to stop writing that sentence because the concept of Shinobi: Revengeance just blew my mind into hyper space)
…but Shinobi III is just so much more fast, exciting and visually-stunning. You don't fight Godzilla or Batman, and the game is relatively easy on Normal difficulty, but you have so much control over your character. Even though Joe Musashi doesn't have as much moves as Jiro from Shinobi 3DS, the depth and elegance are still there. The game plays like butter, no, like buttered cat even. Shinobi III is the anti-gravity system of action games and you're the ninja master of cats and butter. This game just can't fall down. It always stays there, floating in the air.
In the 3D Classics version you get your usual options-tweaking and a really good 3D effect. Perhaps the most interesting new feature is Expert Ninja Mode, which doesn't make the game harder, but lets you use the 3DS' additional buttons. Shuriken is mapped to the right shoulder button, while guard is to the left one. That way your standard attack becomes the katana, which leads to more tactical use of ammo. People like me, who played lot of Shinobi 3DS, might want to try it out. Although, I always thought the original control scheme was already extremely elegant and fun.
How good is 3D? Pretty good
New features:
Options-tweaking
Expert Ninja Mode

Streets of Rage reviewed by Anthony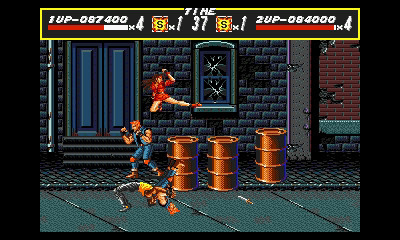 To tell you the truth I never really liked the original Streets of Rage that much. The first game in the series that I've played was the second one and obviously it is really hard to go back after such masterpiece. Besides, Streets of Rage 1 always looked to me like Sega Master System game at best. But throughout the years I started to appreciate it more and more. I started to like just how different it was from games like Final Fight and even games in its own series. Streets of Rage is one of the few unique beat'em ups what I can think of. After a while all the Capcom stuff blends together, but Streets of Rage is unlike anything I've seen. It doesn't play as well as other well known games in the genre, but it still maintains this sort of clunky, yet charming nature. It also the only game in the series in which all the playable characters are cool. "COUGH" Racist black kid stereotypes "COUGH".
At the time when everybody tried to make huge sprites of characters, Streets of Rage kept them relatively small. Which now really reminds me of Double Dragon games. Unfortunately, that's when the problem with 3D comes is. 3DS can make look the city and the background in general really impressive and popping-out colorful, but since the sprites are quite small and not as detailed, they appear kind of weird looking. I guess it's a minor gripe of mine. And you can always turn the 3D effect down, if it bothers you too much. Other than that, there is an amusing new mode called "Fists of Death", in which you kill everything with one touch, and the usual options-tweaking stuff.
How good is 3D? Pretty good
New features:
Options-tweaking
Fists of Death mode

Space Harrier reviewed by Anthony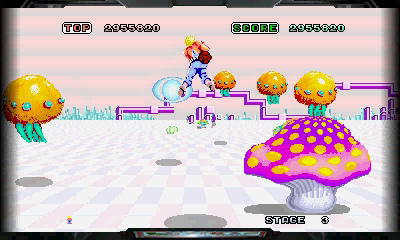 Space Harrier never was a very deep experience. It was a fun little game at best. What really mattered at the time and what made Space Harrier into such a beloved classic was its use of Sega's "Super Scaler" technology. Pseudo-3D sprite-scaling has transformed this rail shooter into something much more. For today's gamers perhaps it would be impossible to understand the impact it made, but with the introduction of quite impressive 3D effect to the 3DS version, they could at least taste a little bit of all the excitement people had in 1985.
The biggest addition to the 3D Classics version of Space Harrier is touch screen controls, which make the game play more like Kid Icarus: Uprising, but with some little differences here and there. When playing with standard control scheme, releasing the Circle Pad causes your character to return to his default position at the centre of the screen.  If you're using touch screen controls this kind of thing doesn't happen. After playing both modes for several hours, I honestly still don't know if touch screen controls make your mammoth-shooting action more comfortable and precise. So, at the end of the day you'll just have to decide which control scheme suits you best. Other than that, you get your usual wealth of options, so if you want to simulate an arcade cabinet experience or just make the game a little bit easier, the 3DS version got you covered.
Welcome back to the fantasy zone.
How good is 3D? Pretty good
New features:
Options-tweaking
"Arcade cabinet" mode
Touch screen controls

Super Hang-On reviewed by Anthony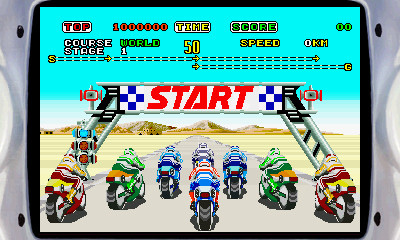 Despite being in love with Yu Suzuki's Outrun series, I never played any of his Hang-On titles. Which is kind of weird, considering Hang-On games were released on so many video game consoles. I decided to wait until 3D Classics version of Super Hang-On arrives on eShop, so I could experience one of the most boring sports ever in glorious 3D. Totally worth it!
While Super Hang-On still didn't change my opinion on motorcycle racing, it took me for a fast and exciting ride. Once again, M2 gave us a fantastic port with perfect 3D visuals and perfect frame rate. I'm actually kind of happy to play this game for the first time on the 3DS, since I can experience breathtaking combination of Sega's "Super Scaler" technology and Nintendo's stereoscopic 3D effect. Besides Galaxy Force II, it's probably the most impressive and solid 3D effect I've seen in all 3D Classics.
In addition to the great 3D effect, you get options-tweaking, the ability to choose between Sit-Down Type and Ride-On Type arcade cabinet-simulations modes and gyroscope controls.
How good is 3D? Great
New features:
Options-tweaking
"Arcade cabinet" mode
Gyroscope controls

Sonic The Hedgehog reviewed by Scott Morrison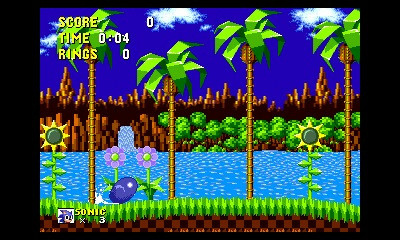 From what I read in the M2 interviews, it sounded like their revamping of Sonic the Hedgehog received the most attention. After playing 3D Sonic the Hedgehog, I definitely notice the time and effort put into the port. The "Super Scaler" did an amazing job with the background and foreground for the 16-bit Sonic. So much so that I died rather quickly, because I was more focused on the background rather than Sonic himself. I also noticed items in the foreground of Starlight Zone that I had never noticed in the 20 years I've played this game.
Having the Spin Dash available makes the majority of the game way easier than playing without it. It almost feels unfair in certain parts. The final boss is also a bit easier since you don't have to worry so much about being crushed under Robotnik's giant pistons of death.
The fact that you have an option to access a stage select from the beginning of the game seems like hand-holding to me, but I can understand why they would want that accessible for the sake of newcomers seeing the 3D effects on every level. Overall the port is an amazing portable walk down memory lane, with new things added for variety for veterans.
How good is 3D? Amazing
New Features:
–       Options-tweaking
–       Spin dash availability
–       Level Select immediately unlocked

Altered Beast reviewed by Scott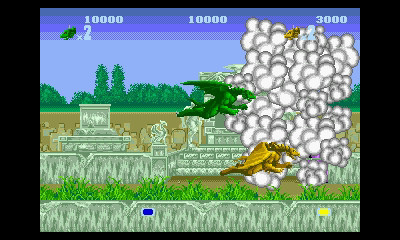 Altered Beast has always been one of those games that I will forever struggle to clear. I've never been able to beat the game on my own. Even though this version is still as difficult as the original, it was a lot more fun with the Random Form mode. Normally in the game, after collecting 3 orbs you turn into the designated beast for each level, and any orbs collected after those add points to your score. With Random Form, any orb collected after the first 3 will turn you into a random beast, hence the name. With this mode turned on, I actually turned into the dragon in the first level, which is arguably the best creature in the game. Being the dragon makes any portion of the game worlds easier, so I was having a blast destroying everything in my path and killing the boss in less than 5 seconds.
The 3D effects are noticeable in this game considerably more in the first level than in later levels, but still shine regardless. M2 did an excellent job with their Super Scaler, as the "Fall-in" 3D mode they created is much easier on the eyes than the default "Pop-out" 3D that all other 3DS games use.
Another nice feature is the 2-player local co-op. I was afraid this game would suffer from laziness in the multiplayer department, but they took the time to make sure it works well on the handheld. Granted, this is not an addition to the game, but who could really get through Altered Beast on their own? As I said, I've never been able to. That in mind, co-op, and the Random Form mode helped welcome me to my doom.
How Good is the 3D? Pretty good
New Features:
–       Options-tweeking
–       Random (Beast) Form

Ecco the Dolphin reviewed by Scott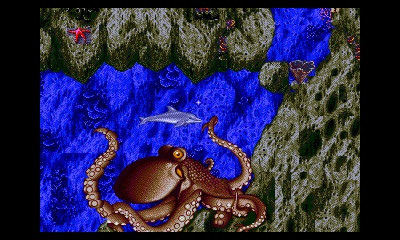 Ecco the Dolphin was one of those games that always captivated me even if I never accomplished much in it. The atmosphere, simple-yet-detailed design, and overall mood of the game is all very appealing. The only slight turn-off from the game was it's difficulty level in some areas. The game does very little hand-holding with nothing more than small bits of text to guide you.
The 3D effects are most noticeable when you are on the surface of the water, or near the ocean floor due to the fact that the majority of the background is a solid navy blue color (see what I did there?). Aside from that, they do not add as much to the asthetic as they do in the other 3D re-releases.
The major add-on in this port is the Super Dolphin mode. Resurfacing for air, and fending off schools of enemies is the most difficult factor in Ecco, both of which cease to exist when in Super Dolphin mode. In this mode, you never have to surface for air and are invincible. Instead of having to ram enemies you can literally swim through them and watch them explode into stars. Having died countless times to an annoying school of jellyfish, I can't begin to tell you how satisfying it is to calmly swim through them while watching them explode into nothingness. While Super Dolphin mode does make the game easier, it doesn't make the game any shorter as you still much explore the game extensively.
Super Dolphin mode is a welcomed add-on, and instead of making a challenging game jokingly easy it simply takes away some aggravation to allow for more relaxed exploration.
How is the 3D? Good
New Features:
–       Options-tweaking
–       Super Dolphin mode

And there you have it! As you can see, M2 did a great job bringing all of these amazing classics to a whole new generation of gamers. Anthony and I can't recommend these games enough to everyone whether you are a long-time Sega fan or diving in for the first time. Each game has its own unique add-ons, and has a form of 3D effects that in my opinion are some of the best the 3DS has seen. Each one of these games is easily worth the asking price of $5.99 as they were intended to be played for hours on end back in the day, and can now be played at your leasure with the ability to save any time. Do yourself a favor and jump on the 3DS eShop to enjoy some of Sega's best bits of history.