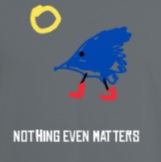 Awwww yeah, we're partying like it's Episode 99… because it… is. YEP. NAILED IT.
We'll hitting episode 100 and causing some utter pandemonium on January 9th at 9:30EST with a LIVE PODCAST TWITCH STREAM where we will be playing Anarchy Reigns on PS3, and we want YOU to be a part of it! We will have an open lobby and answer all the listener questions you can throw at us LIVE, along with others you can Tweet to us right now using the hashtag #SegaAddicts100. Dare I say it will be… ANARCHY?
This week, Brett, Scotty, and Elle discuss the latest Phantasy Star Online game to be prolific in the Americas, Phantasy Star Universe for XBox 360! We ponder whether or not we live in too instantaneous of a world, with the proliferation of social media and the like, to be able to take the time to enjoy a game at our own pace, and Elle drops some relevant knowledge on how to avoid spoilers on Twitter, and to top it all off, we play second fiddle to those McGriddles.
Looking to complete your Atlus collection now that they have joined forces with Sega? Trying to grab that crazy Hatsune Miku arcade controller?  Consider doing so through our affiliate link at PlayAsia!  Don't even wanna buy anything?  Not a problem, princess!  It still helps us out if you so much as click on the link!
Don't forget that you can still help raise more money for our ExtraLife campaign!  We beat our $500 goal during the Dreamcast Marathon but we are still going strong! Want to donate? Find out how right here!