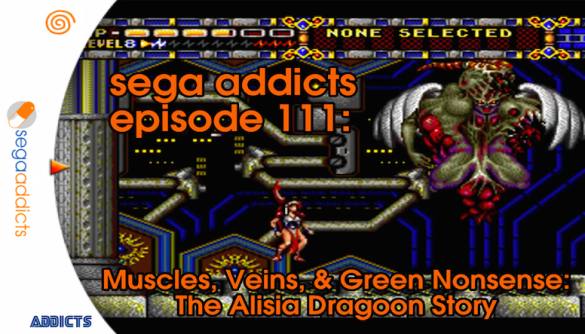 Have you taken your Boomerang Lizard out to play lately? Well you probably should, and the Sega Addicts are here to tell you why! That's right kids, this week TJ, the Pocky X, and Scotty discuss Alisia Dragoon for the Genesis/Mega Drive with all of its medieval/sci-fi/overpriced/pulsating goodness. We dare you to name another podcast that has actually discussed this Game of the Week.
On the flip side, one of the simplest Questionariums turns into one of the longest discussions as the Addicts try to describe an individual game they each love in just one sentence. Following the pensive pattern, an Addict Alum prompts a pretty great discussion on games that the crew once hated and grew to love.
Suggested talking points: Can you feel the sunshine? Does it brighten up your day? Don't you feel that sometimes you just need Tom Cruise?
Check it out! We are on iTunes! Subscribe and be sure to give us a review, because we would love you even more!
And hey! If you missed out on the insanity that was our special live edition of our 100th podcast episode you can always swing by our YouTube page to check it out as well as any other streams we have posted.
Finally, gang, are you looking to complete your Atlus collection now that they have joined forces with Sega? Trying to grab that crazy Hatsune Miku arcade controller?  Consider doing so through our affiliate link at PlayAsia!  Don't even wanna buy anything?  Not a problem, princess!  It still helps us out if you so much as click on the link!