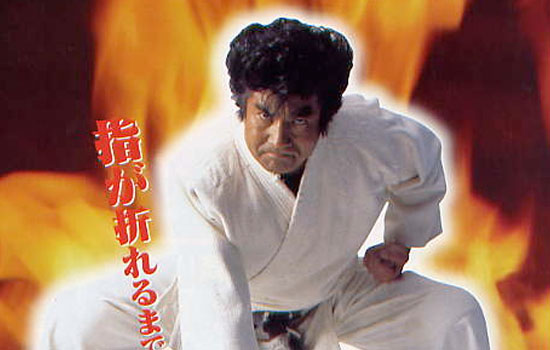 I was saving this one but the demand for it was too much for me. This week's Radvertisements is all about SEGATA SANSHIRO!
Segata Sanshiro was a character created to promote the Sega Saturn. His name and appearance are a parody of Sugata Sanshiro, a legenedary Judo fighter from the Akira Kurasawa film, Sanshiro Sugata. He was played by actor Hiroshi Fujioka, who, until that point, was best known for playing the hero Takeshi Hongo on Kamen Rider.
Segata Sanshiro would hunt down and punish people who didn't play the Sega Saturn. He was a pretty busy guy:
I don't know what they're saying as my knowledge of the Japanese language is basically limited to counting to 10 and how to ask for porn but I bet it has something to do with Sony. No one was safe from his beatings. Not even children. In fact, ESPECIALLY not children:
Segata Sanshiro actually resorts to donning a disguise to trick children and break into their homes. Where are their parents? I bet Sanshiro knows.
Besides being incredibly strong and a martial arts expert, Segata Sanshiro displays an array of supernatural powers. For instance, he has the ability to make someone explode. Twice:
How does one get so strong? Sanshiro has a rigorous training regimen of hauling a giant Sega Saturn up and down a mountain and practicing martial arts on the giant controller (button masher):
And smashing things with his head:
I read somewhere that those are supposed to be N64 cartridges, but they just look like grey blocks to me.
He's also very skilled at sports:
All of these ads were made over the course of only one year but the character became very popular in Japan. He got his own video game and even a music video:
Try and get that song out of your head.
But alas, all good things must come to an end. Even Segata Sanshito:
Sanshiro, you brave, brave man. He will forever live on in our hearts as one of the greatest spokemen ever.
That's it for this week's Radvertisements, kids. And remember Segata Sanshiro does what Crash Bandicoesn't.
Hey, speaking of advertising, check out these awesome shirt designs our very own Tom Kyzivat designed. Vote for your favorites and the most popular two will actually get made and be available for pruchase! I want number 10 so hard it makes my eyes bloodshot. And be sure to post YOUR favorite Radvertisements in the forum thread so I have to do less research!