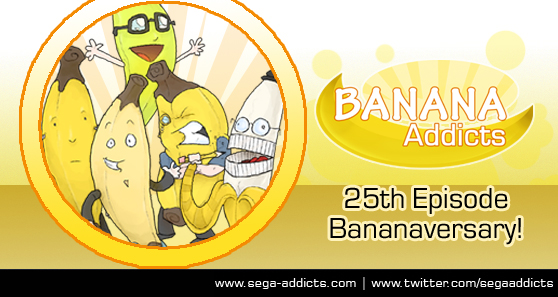 You may notice something different about your favorite podcast/website. No, we didn't get a new haircut or paint our nails a different shade of blue. We've actually decided to drop the SEGA theme and instead focus 100% on everyone's favorite yellow edible, the banana.
Sure, SEGA's great and everything but there's only so much you can talk about. Sonic this. Sega Dreamcast that. Always repeated over and over again. With bananas there's a whole world to explore. Different brands, types, ripeness, peeling techniques, uses, and the list goes on and on. It's amazing the amount of topics this one fruit contains.
Anyway, tonight's podcast will be devoted entirely to the yellow drug. We'll be discussing banana news, bananas and peanut butter, and bad banana experiences. If you've got any questions just leave them in the comments below as we will be doing listener questions. Plus, since this is kind of our transitioning episode from SEGA to bananas we will allow for questions relating to SEGA and video games if you got 'em.
Don't forget about this week's contest! What can you win? Oh, just a Sega Saturn or Dreamcast.
Catch you on the other side of the peel! (God, that was horrible)