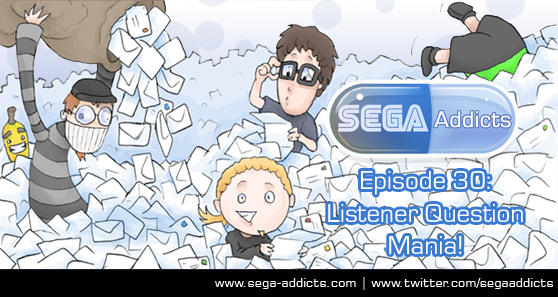 Remember last podcast when we said that the next episode would be entirely made up of your questions? Well, we weren't joking! The next episode of Sega Addicts is all about the listener questions and we're posting the show post early this week so we can gather up as many questions as possible and give you some time to think.
Now, you may be thinking, "I can ask the Sega Addicts a question. That's easy!"
Guess what. It ain't so easy, mister, as we've added a twist. Every comment you post with a question has to include two things: 1) A Sega/videogame related questions and 2) A question relating to one of the following Sega Addicts cast suggested topics (listed below). If you do one and not the other or your question completely misses any of the topics then we will… we will….. not answer your question very nice. Not nice at all.
Here's those cast member topics:
Alex: Decorative rugs
Tom: Toys
Kris: Soup
Mike: Male thongs
Francis P. Tassium: Mathematical algorithms
Now get asking those questions. You can do as many as you want as long as each comment meets the two requirements!