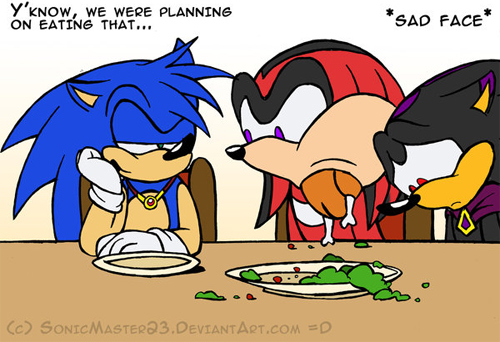 In the spirit of giving, SEGA has just sent us 10 Sonic 4 XBLA codes to give away! We've thought long and hard about just what this contest would be and we've finally come to a decision.
To enter all you need to do is create anything that combines Thanksgiving with Sonic the Hedgehog.
What do we mean by anything?
Well, we mean anything. It can be a drawing, painting, haiku, poem, fanfic, song, sculpture, game, welcome mat, mobile, oven mitt, comic, photo, recipe, etc. As long as it combines something Thanksgiving related with something Sonic related it meets the requirements. So get creative!
To enter please put your submission in the comments below. If it's an image, link or embed to the image. If it's a poem, type it in there. If it's a long piece of fanfic link it. If it's a song link to it. Etc, etc. Just make sure we can get to it.
The final day for submissions will be a week from Thanksgiving (Dec. 2nd) and we'll be announcing the winners on both our podcast and on the site. We'll be picking 10 winners based on quality, humor, creativity, and overall sex appeal.
Actually, scratch that sex appeal part I don't think I want to see those submissions.