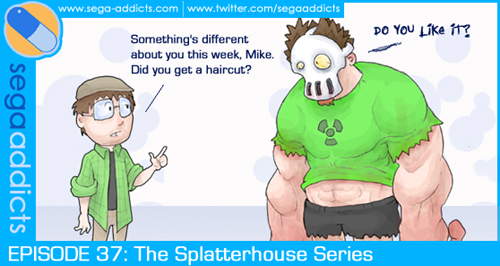 Another Thanksgiving has come and gone and the SEGA Addicts are back to record another episode of everyone's favorite SEGA themed podcast that is hosted by a guy with a ponytail and has a tall co-host from Seattle. By the way, Kris, is Seattle's Best Coffee really Seattle's best coffee?
This week's episode is all about the Splatterhouse series. That's the game where you beat up fetuses and smash enemies into the background with a baseball bat. With the new Splatterhouse game released last week it seems like the purr-fect time to talk about the games.
We do need your listener questions so please put them in the comments below. It will make us very happy. I'm also sorry for spelling perfect as purr-fect above.
Don't forget that we're giving away 10 Sonic 4 XBLA codes! The deadline is 8:00 PM (Central) tonight so get your entries in!