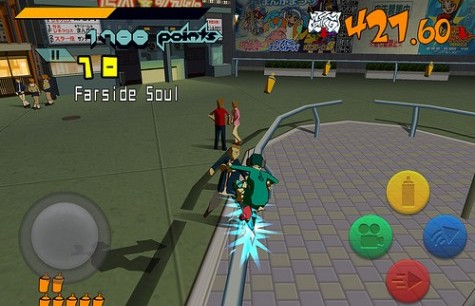 Jet Set Radio HD has already come and gone on consoles, leaving in its wake a blazing trail of success, but those of you frothing at the mouth for a tiny, handheld Tokyoto on the go have been patiently waiting for some news of the Vita and even iOS ports. Well, the wait is nearly over!
Sega has announced that the Vita version of the game will be available on November 20th (just in time for Thanksgiving!), with the iOS version coming on November 29th.
Additionally, Sega has revealed that Jet Set Radio will be among the first titles to ride the rails of Sony's Playstation Plus Vita Instant Game Collection. That means gamers with a Vita and a Playstation Plus subscription will be able to play the game for free from November 20th to December 31st. Pretty sweet. Unfortunately the promotion is U.S. exclusive, though.
Anyone eager to pick either of these up? Despite my misgivings about virtual controls (I grew sick at the very sight of the above screenshot), I'm morbidly curious to see how the game looks on my iPhone. The concept of a portable Jet Set Radio is just too awesome to bear.