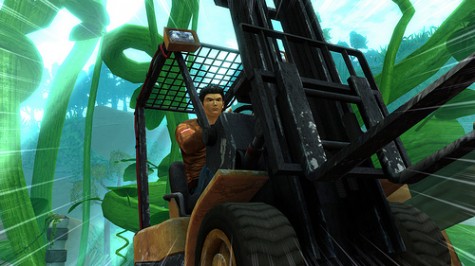 After several days of fervent, excited voting, it appears that the polls have finally closed on Sumo Digital's fan-pleasing DLC character voting challenge. When I last reported on this about a week ago, the indelible cult hero Segata Sanshiro seemed to have an unwavering Chuck Norris-like grasp on the top spot. But that ongoing furor of ever-vocal Shenmue fan support won't be quelled: Ryo Hazuki has pulled out ahead, with over 3,295 votes under his belt.
Just behind him is Vocaloid sensation Hatsune Miku with 3,161, and Segata Sanshiro with 2,605. A handful of other characters passed that important 1,000-vote threshold, including Vectorman (1,217), Bayonetta (1,211), and Ristar (1,077). Unfortunately, Toejam & Earl just barely missed the finish line, with 993 votes, just seven votes shy of the required score. Now, keep in mind, none of these characters are guaranteed, but they will be at least presented to Sega as frontrunning possibilities.
Maybe this is being a bit dramatic, but seeing Ryo Hazuki snag the top spot makes me incredibly proud of the Sega community, and Shenmue fans specifically. I've seen those guys all over Twitter over the past week, gathering support just for this little milestone, and their hard work has really paid off. While I think Sega is already well aware of our desperate love for the franchise, this popular vote really sends the message home that fans are willing to do what it takes to get support.
Seeing Vectorman and Ristar up should also have retro fans very pleased. However it kills me that Toejam & Earl fell short by such a minuscule margin, as their role in Sega's history is nothing short of essential. Personally, I'd trade out Hatsune Miku for Toejam & Earl's vibrant, funky style any day of the week.
Hit the jump for the full voting tally.
-Ryo Hazuki: 3295
-Hatsune Miku: 3161
-Segata Sanshiro: 2605
-Vectorman: 1217
-Bayonetta: 1211
-Ristar: 1077
-ToeJam & Earl: 993
-Billy Hatcher: 687
-Axel Stone: 581
-Blaze Fielding: 527
-Phantom R: 472
-Selvaria Bles: 456
-Alis Landale: 447
-Sakura Shinguuji: 366
-Welkin Gunther: 366
-Ash: 331
-Opa-Opa: 329
-Kazuma Kiryu: 306
-Arle Nadja: 304
-Sketch Turner: 303
-The Chu Chus: 272
-Space Harrier: 253
-Bonanza Bros: 229
-Spiral Knight: 183
-Amitie: 161
-Rag Rappy: 158
-Ecco: 123
-Jacky Bryant: 118