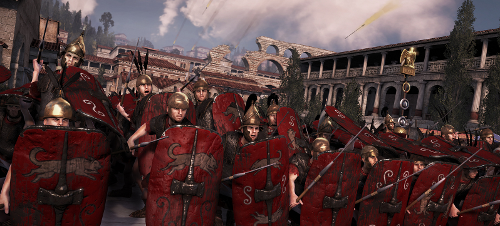 The hugely anticipated turn-based strategy sequel Total War: Rome 2 is edging itself ever nearer to fans as September 3rd rapidly approaches. With this in mind Sega has detailed the exact specifications that the game will need to run on your PC, and as expected you'll need a pretty powerful machine to handle it. Although apparently it can still run on Windows XP… which is odd to say the least.
Either way if you're interested you can hit the jump to see both the minimal and optimal performance requirements. Now isn't that nice?
[Source: CVG]

Minimum Specifications:
OS: XP/ Vista / Windows 7 / Windows 8
Processor: 2 GHz Intel Dual Core processor / 2.6 GHz Intel Single Core processor
Memory: 2GB RAM
Graphics: 512 MB DirectX 9.0c Compatible Card
Hard Drive: 35 GB HD Space
Screen Resolution: 1024×768
Optimal Specifications:
OS: Windows 7 / Windows 8
Processor: 2nd Generation Intel Core i5 Processor
Memory: 4GB RAM
Graphics: 1024 MB DirectX 11 Compatible Graphics Card.
DirectX: 11
Hard Drive: 35 GB HD space
Screen Resolution: 1920×1080
… and if you understood all that you are indeed more tech-savvy than I. Enjoy Total War: Rome 2 folks!