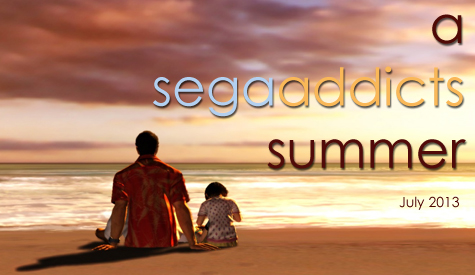 This July will be the first of many themed months here at Sega Addicts. If you haven't noticed already, the site design looks a little different with a banner that says something about "A Sega Addicts Summer." That's because for the month of July, we're going to be doing all kinds of Summer-y things that relate to Sega games, memories and more.
This means you may notice some common themes running between features, retro reviews and podcast topics throughout the month along with a few other aspects that our community can get involved in!
First, we have an exclusive forum badge that can only be obtained during the month of July. Titled "Outdoor Vegetation", to obtain this badge you must post in the forums a photo of yourself outside in the beautiful Summer sun playing a Sega system or game.
Next, you have the opportunity to get your feature posted on our site. If you have an idea for a feature that relates to Sega and Summer, write it up and email it to us at segaaddicts@gmail.com. We'll pick a few of the very best submitted articles and post them on the front page.
And that's all for now! Stay tuned for more Summer-y goodness throughout July!