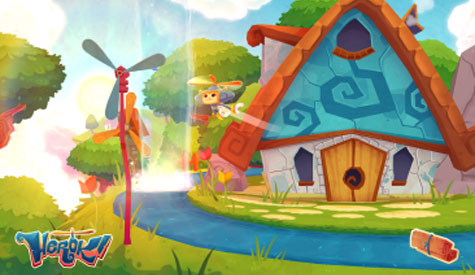 Sega have recently announced that they will be publishing Picomy Game's latest title, Heroki. This game has been in development for quite some time now and has had no updates on it's development this year, until Sega got the publishing rights.
So is this Sega's second attempt at Sega Alliance? We can only hope it will end well this time. The game will be out for iOS later this year with no word of an android release.
Hit the jump for more details.
The peaceful sky village of Levantia needs a hero! The dastardly Dr. N. Forchin has stolen the Emirex, a powerful magical amulet, and all may be lost.

Heroki will venture into a whimsical sky world of flight and fantasy and wield the power of the wind to retrieve the Emerix and save his village. To find the amulet, Heroki will use the wind to fly, freefall and dash, across the clouds, villages, jungles and seas.

A fantastic touch-screen hero

Fly, freefall and fight with the help of the wind and a propeller
Walk and explore when on land
Push, pick-up and throw objects
Collect coins, discover power-ups, and master new skills
Both touch screen and traditional control schemes to choose from

Deep & beautiful mobile action-adventure

Explore four whimsical worlds including a tropical island, a water world and a village in the sky

Meet and befriend a cast of characters

Face and foil the five unique enemies of each world

Discover a host of secret islands with mini-games and quests to earn special rewards