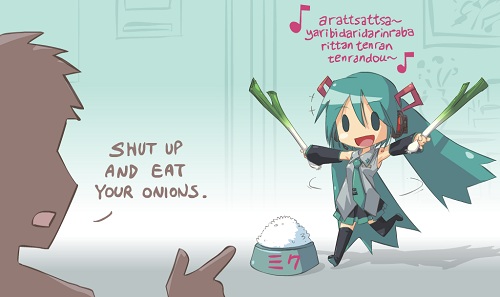 Hatsune Miku is kind of a big deal, with the VOCALOID sensation in general permeating into Metal Gear Solid: Peace Walker and her own personalised leeks cropping up in Phantasy Star Portable 2.
She is also this Saturday having her debut US concert in the Japantown area of San Francisco, as part of the J-Pop Summit Week. The program for the festival on the official site lists Sega as taking over the VIZ Cinema at NEW PEOPLE, between 12pm and 2pm for 'THE SEGA EXPERIENCE', which apparently will be some kind of showcase of their latest games. No idea if that means they're playable or not, but two hours seems pretty damn long for just a show reel. Then from 3pm till 5pm will be what is described as; "Vocaloid sensation Miku Hatsune's digital "live" concert!". In actuality it will be a cinema showing of the famous holographic concert held back in March in Japan.
Tickets are unfortunately already sold out, but it's not too bad given that you can always just find a recording of said concert yourself. If you happen to be in the area it might be worth checking out to see if you can get in though, and the Sega Experience appears to be free anyway. Also apparently 'Brand New Blu-ray discs' will be sold at Miku event, which I guess will be the recording itself in glorious HD, so absolutely worst case scenario you might be able to pick up a copy or get someone to fetch you one when they're in there.
On a slightly less fanatical level, I'm glad to see an increased presence in the west, even if it is just a small amount. Anything that boosts the chances of Project Diva/Dreamy Theatre getting an international release can't be bad after all.