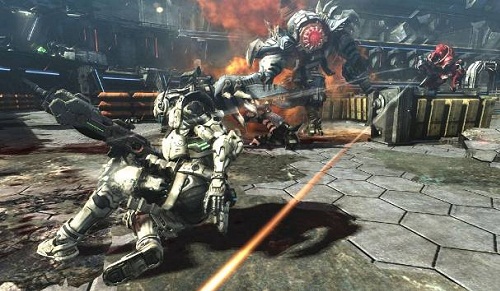 Are you Japane-..wait, doesn't it feel like we've done this before? Yet another 'Huh, I wasn't expecting that' announcement to come out of TGS, there will actually be another playable demo of Vanquish released next week on the Japanese on-line marketplaces. No word on a US/EU release date, but presumably it wont be too long a wait as there were only days between the releases of the first demo.
Titled 'VANQUISH CHALLENGE MODE DEMO' (probably not realistically in ALL CAPS) it's designed to give players a taste of what the game is like on a much tougher difficulty setting. I could've understood this for the Bayonetta demo, but frankly I had a pretty damn tough time with the demo for Vanquish, and any interest I have on seeing it get tougher before even touching the full game is an almost entirely morbid curiosity. I'm sure there must be some gamers out there with incredible reflexes though, so be sure to check out the new demo when it arrives next week.
Given the emphasis on scoring I'm sure it'll provide a decent training ground for competitive players too, to ensure a frighteningly diverse scoreboard on release. Just don't say I didn't warn you. There's a reason they called the final difficulty mode 'GOD HARD', and I'm in no rush to be taught why.
[Source: 1-UP]