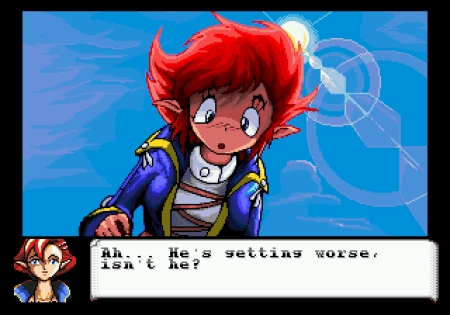 Some news days are slow. Some are VERY slow. Some take place after TGS and actually go in reverse, so that you find news you didn't hear about before but quickly learn is old even before you learned of it. The bonus of this is that you find yourself hunting in strange places for news that might not be quite so widespread. This is how I came across Pier Solar and the Great Architects.
Billed as "the very first all new game to appear on the Sega Mega Drive / Sega Genesis and Sega Mega CD / Sega CD this millennium.", the game has been in production since 2004, where it was originally a much smaller project. Nevertheless it's still going strong, with regular updates on the blog, including a recent request for people owning rare Mega Drive/Genesis revisions (WonderMega, MegaJet, MegaLD and Tera Drive specifically are what they're after) to conduct a few hardware tests for them to make sure it doesn't play up on actual systems. The coolest thing about this, despite looking like it could be a really decent traditional party-based RPG on a system sorely lacking in them, is that it will actually be produced on cartridge AND CD. This means that if you own both a Genesis and Sega CD you can insert both during play for CD quality audio, but if you only own a regular Genesis you can still play the whole game albeit with a lower quality soundtrack.
There's also a playable demo in the form of a genesis ROM which you can download and play right now to get a taste of what the full release will be like, although the page does warn that this is from an older work-in-progress form of the game. No release date is announced as far as I'm aware, but I'll try to keep you posted if it crops up anytime, although as pre-orders seem to be sold out  I have no idea what our options are if it turns out the demo is pretty interesting. Amazing that these kinds of games are still getting made though, so I'm definitely looking forward to seeing the finished project someday soon.