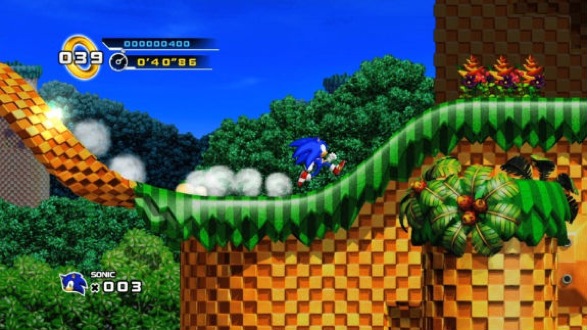 Sega has confirmed to Strategy Informer that Sonic the Hedgehog: Episode 1 will hit PSN and XBLA on October 13th after XboxUK hypeman Dom Carey (by the way, Dom is a solid name) tweeted out an Oct. 13th release date for Xbox 360.  Good job to Strategy Informer for getting all the facts straight.  XBLA will be priced at 1200 MS points and $14.99 on PSN (convert it yourselves commie bastards).
How excited are you for this game?  I had an opportunity to play it at Pax and passed on it.  Speed has never been my thing.  I even hate swinging.  What if the person next to you swings into you? Those chains can leave deep bruises and rope burns are worse!  I'm sure I'll brush into Sonic 4 sometime soon enough though. Guys around here are kind of enthusiastic about it.
P.S. Do any gals read us? If so, we'll throw a charity date auction. All proceeds to go to Kris Knigge's first date fund.
[Source: Destructoid]