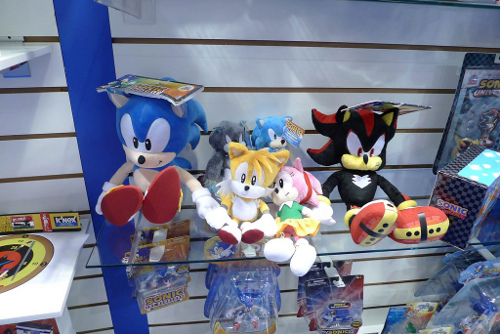 Did you hear about Sonic's 20th Birthday? Yeah, it's kind of a big deal. No biggie. Well actually no, it is a biggie. A big biggie. I'll stop talking like a child now. Basically Sega have recently told MCV that they plan to plaster Sonic's mug on everything before the big day arrives.
We want to team up with multi-territory partners in publishing, apparel and collectibles such as trading card games and stickers. We also have interest in categories such as wheeled items, outdoor sporting goods and bedding in the UK and internationally.
I'm pretty sure that those things have already been made by the truckload but I guess this means that we'll be seeing more of these. Maybe each piece of merchandise representing a piece of Sonic history like the upcoming Sonic figurines. Either way it looks like Sega's determined to take all of our hard earned money through the year. I'd complain about excessive marketing here if I wasn't such a shameless consumer whore myself.
[Source: MCV]