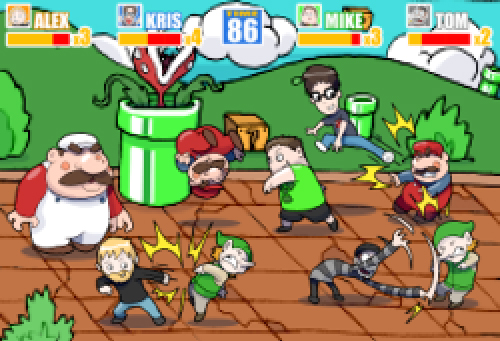 I bet you've been wondering what the Sega Addicts do in their free time. If I told you that we drink orange juice through hollowed out Slim Jims I'd be lying… well, maybe not entirely. But that's not the point! You see, Tom has created this amazing Sega Addicts universe with his artwork over the past year and we decided to put it to good use. And what better use would that be than a Sega Addicts beat-em-up!?
So, over the past few months we've been using our individual skills to try and create this world changing beat-em-up and after getting a prototype up and running we did what any Sega Addict would do: We pitched it to Sega… and they loved it! It's still a long ways off but you can expect to see the Sega Addicts beat-em-up on XBLA and PSN sometime next year under the official Sega banner. Four player co-op, leaderboards, bananas, and much more! Be excited.
For more details check out the official Sega announcement here.