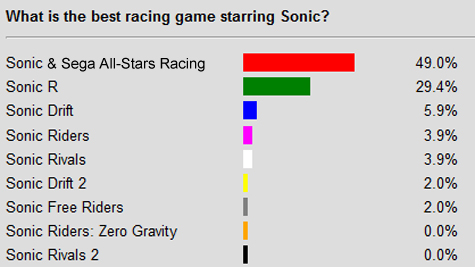 Did you know that Sonic has been in quite a few games of the racing variety? I did, not that I mean to gloat. Most aren't very good and this poll reflects that.
Both Sonic & Sega All-Stars Racing and Sonic R take up a huge portion of the votes even though there's roughly ten games to choose from. In my opinion, All-Stars Racing is in a well deserved first place and while Sonic R has not aged too well it's far better than the many other options of racing games. Especially the awful Sonic Rivals series.
So what are your thoughts? Were you the one that voted for Sonic Rivals? Why?