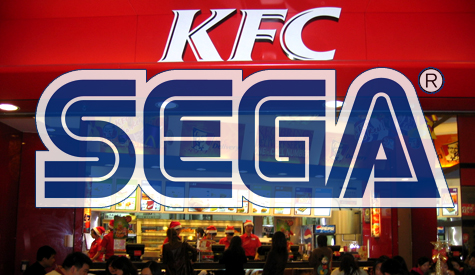 It's time for the first official non-Sonic related Sega Addicts Speak! Talking about Sonic is great and all but did you know that Sega has other great licenses and franchises as well? It's true! I swear!
So, this week's questions asks: "Besides Sonic, what is your favorite Sega license/franchise?"
Hit the jump to read our answers and become humbled.
Pat Reddick: The difficulty here is choosing between a Sega game that was awesome and has so much potential (that will probably never be realized) and a series that, like any series, has it's ups and downs. For instance, I would love to say Kid Chameleon or Bayonetta, because I love both of those games, but at only one game a piece it's hard to compare them to something like NiGHTS or Shinobi which have several games, some great, some not-so-great.
I think I'll have to go with Kid Chameleon. It's such a deep and challenging game; I go back to it all the time. I've already talked about it in our new forums actually. I love the multiple masks you can use and how each mask changes how you play the game slightly. If there was anything I could do to make Sega revisit this franchise I would probably do it in a heart beat.
Sven Wohl: For me, the answer is quite simple: Yakuza! I love that franchise, even though I have only played the swecond and third yet. So far I've really enjoyed it and I love the mixture of all the elements that exist in the game. Also, the whole Japanese feel in it is absolutely great. Since I try to get into Phantasy Star and Valkyria Chronicles, this could change quickly, though.
Mike Kyzivat: That's an easy one, and I'm sure I've mentioned my love for it on the show before, No it's not Eternal Champions (though it would be a very close second) it's actually Altered Beast. I am picking this game because it was the first game I went ape shit for. I loved that game to death when I was a kid. Going so far as to design and draw toys for the game and send them to SEGA. And coming up with a parody called Altered Feet with my brother Tom. The reason I loved it so much was being able to change into cool badass were animals. I mean who wouldn't want to be a Were Dragon? Don't answer "not me" because not only would it be a bold faced lie, but this was a rhetorical question, the answer is always: "oh, oh, me, me!! I wanna be a Were Dragon!!" And the enemies were really cool too, remember the first boss that is made of rotting flesh and continually rips off and throws his head at you? You don't see that everyday, well at least you didn't see that everyday when I was a kid. It's really too bad that there hasn't been a remake (well a good remake). But SEGA has been bringing back their old games of yesteryear's, it's my hope that they will eventually make a sequel to this game, and that they will do it justice.
Brett Hatfield: I don't think I can pick just one, honestly. I've certainly got a soft spot for Daytona USA, obviously, and would love to see Sega Racing Classic come to PSN at some point. Jet Set Radio is definitely up there, even though I've never played Future. Bayonetta is something I adore, and really need to play again. After doing the Yakuza 4 review, I've fallen in love with that series so hard, and cannot freaking wait for Of The End. Resonance of Fate, certainly… I would kill for another Resonance of Fate game! I honestly could give you any one of those as an answer depending on how I feel.
Alexander Sargeant: Crap! Yakuza is an outstanding choice. I guess for me it has to be Yakuza, seeing as it's the only title I've ever gone as far to have played an import of with GameFAQS translation guide open in seven different tabs for each section. In a time where the gaming public at large are unsatisfied with the direction RPGs are headed in, I think Sega were well ahead of the curve with this series. The combat is fun and grows in complexity as you level up, but there are enough assists like health items and weaponry to bring along to stop it from ever becoming too difficult. There's never a level grind, and yet you still feel compelled to seek out as much experience as possible which is often linked to the more interesting diversions in the game. It has great mini-games, fighting, wonderful man-drama and so many great characters that I just love returning to the world as often as I can.
Tom Kyzivat: Hmm… as tempted as I am to say Eternal Champions, it might actually be Shinobi. I've been playing those since I was a li'l baby Sega Addict, and of course ninjas are about the coolest thing ever. Revenge of Shinobi WAS my childhood, and every Shinobi game since has been a total class-act that I've spent hours playing: Shadow Dancer, Shinobi III, Game Gear Shinobi… and then of course there's Shinobi X, the one F on an otherwise perfect report card, but I've successfully blotted that game out of my memory. I had to dig up that memory to write this, so now I'll have to go back to therapy. If that doens't show my dedication to Sega Addicts, I don't know what does. Anyhoo, I'm actually basing my answer on classic Shinobi games, because I've never played the Playstation ones. I've always seen Shinobi as 2D territory, but I should check those out–I hear they're pretty good.
Stevie Grant: Ristar. Ristar is one of the best Sega games ever made. Although I doubt that really counts as an answer since it isn't really a franchise (even though it so deserved to be). I'm tempted to say Bayonetta but then again, that's only one game.
Actually I'll tell you what, House of the Dead. Yeah I know, it's simple stuff but it really is an enjoyable series. Especially given the grindhouse direction they've taken as of late. So maybe I would say House of the Dead is my favourite Sega franchise. The rest are just one off games that haven't really got sequels yet. Which I kind of like. Say what you want about the company, but they like to spice things up and try new things, even back then.
Alex Riggen: Shenmue. I really like that game. I don't think we'll ever see a sequel unfortunately but I'm fine with that as we got two huge games that were a huge risk in the first place and they're still fun to play. Sometimes I just play Sonic & Sega All-Stars Racing as Ryo and pretend its Shenmue 3.
Josh Newey: I'm going to have to go with Jet Set Radio. Sure, there are only two games in the series, but no other franchise in Sega's canon has ever approached JSR's level of style and personality – a personality that is already essential to Sega's distinct identity. The competition wishes they had an ace in the hole with as much energy and flavor as this one. With a sense of speed and fun that will make even the most jaded of gamers grin uncontrollably, Jet Set Radio is one of the last moments in modern gaming where whimsy effortlessly snags the center stage. That pick-up-and-play whimsy has come to represent the very core of what the Dreamcast is to me – a system focused purely on quick, arcadey fun. The satisfying tagging, the unparalleled soundtrack, and the visuals that will never ever look dated make this game one of the greatest creations Sega has ever managed conjure up.