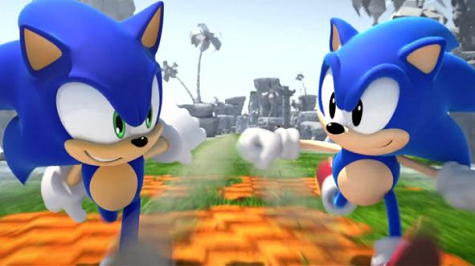 Most Sonic Generations fans will already be aware of the "secret" statue room accessed through the Collector's Room by holding down the back/select button for five seconds. Short numerical codes can be entered to add statues of modern and classic Sonic characters and items, but the codes themselves have mysteriously only been released by Sega in trickles, until a recent, official announcement. Hit the jump for more details and the official code list!
A recent post made on the official Sega blog, by Online Community Manager Kellie Parker, lists 29 statue codes and the statues they unlock, along with brief instructions on how to enter the room. The list is, however, incomplete, with many websites displaying lists totalling 55 codes unlocked by eager fans unwilling to wait for official instructions. In the post, Parker makes reference to the complete lists found on the internet but does not elaborate as to why an official list has taken so long to be released.
Prior to this, the only codes officially released were on the Japanese Sonic Generations site, with the Sonic 20th Anniversary OST and supposedly through a peculiar offer with UK clothing and food store, Marks & Spencer.
I personally think that the codes were intended for use in some sort of marketing scheme that never materialised or that has been quelled by the complete list being spread across the internet. Hopefully Sega will shine some more light on their intentions of the code system as well as releasing more codes in the near future.
At the time of writing, the blog was not down, but seeing as it is was closed earlier for maintenance, the entire post has been transcribed below:
By now, you've probably played (and beaten!) Sonic Generations a few times, but what you may not know is that there's a hidden Statue Room, and codes to unlock many different statues. Some of these codes have been posted around the internet, but it's time to make it official — here's how to get to the Statue Room and some of the statues within.

To get to the Statue Room, go to the Collector's Room (to the left of Green Hill Zone) and hold the back/select button for 5 seconds. The floor will drop out, landing  you in the Statue Room! Once you're in, try these codes:

Modern Sonic – 204390

Classic Sonic – 171045

Modern Tails – 632951

Classic Tails – 359236

Knuckles – 679417

Rouge – 888200

Blaze – 544873

Chao – 629893

Modern Eggman – 613482

Classic Eggman – 103729

Metal Sonic – 277087

Shadow – 262416

Silver – 688187

Motobug – 483990

Buzz Bomber – 852363

Crabmeat – 363911

Chopper – 639402

Cop Speeder – 640456

Gun Hunter – 668250

Egg Pawn – 125817

Taker – 513929

Crower – 711268

Air Cannon – 329494

Egg Chaser – 200078

Spring – 070178

Item Box – 209005

Capsule – 777921

Ring – 390884

Chaos Emerald – 008140