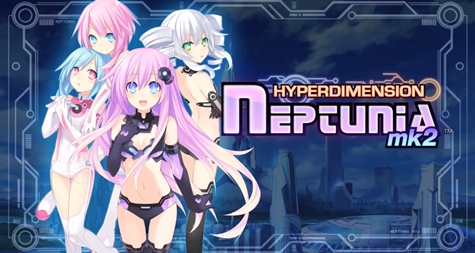 I love a good RPG. More than I should, really. Final Fantasy VIII and Kingdom Hearts II are two of my favorite games of all time. Resonance of Fate, I believe, is the best non-Sonic game Sega has released in the last decade. And the only reason I've even considered getting a PS Vita is if Final Fantasy Type-0 is released over here. (I know this is a Sega site, but seriously Squeenix, get on that.)
And on a somewhat hypocritical note, I love it when games don't take themselves too seriously. While I do like serious plots from time to time, it's nice to find games in this day and age, where so many writers think they have to write a Hollywood blockbuster, that'll be lighthearted, poke at the fourth wall a bit, and just remind us that simple fun can sometimes be better than overly serious exploits.
So when I was offered Hyperdimension Neptunia Mk2 to review, I couldn't resist. While I'd heard the first game's gameplay wasn't up to snuff, for the most part people seemed to enjoy the story and multitude of gaming references, and apparently this version's gameplay was vastly improved, according to other write-ups I'd read.
Now, a couple of weeks later… Well, let's just say I certainly wasn't expecting what I got. Hit the jump to find out why.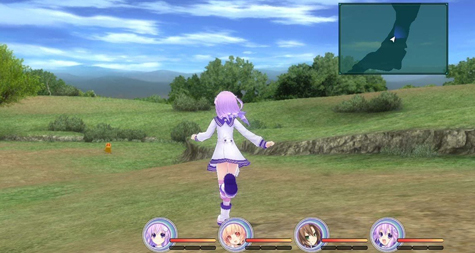 I think "weird" is the best word to describe how I felt playing this for the most part. While you'd think this would have a lot to do with the game's characterizations, and believe me, it's a huge chunk of the weirdness that I'll touch on soon, it felt weird in several other ways too.
Aesthetically, it felt like I was transported back to early 2000, playing a late-cycle PS1 or budget Dreamcast game, except with slightly smoother models. While I should point out that I definitely wasn't expecting Final Fantasy XIII levels of graphic polish, given that this is a rather low-budget studio, I certainly didn't expect to feel like I was playing something a group of fans created, instead of an international company.
But on the other hand, it wasn't the worst thing I've ever seen. I thought the enemy and character designs were nice, along with references that were quite clever. A couple of the areas looked pretty nice until they started not only reusing graphics, but not even changing pathways up one bit in later dungeons, simply adding more enemies and calling it a new area. While I understand why they did things like this, I still wish they'd put some more time and love into crafting their worlds instead of making me think "Oh great, this map again" so many times.
As far as sound goes, the music, again, reminded me of late-cycle PS1 games. While talking with some friends while playing it, I believe I mentioned it having a similar sound (and look, now that I think about it) to the first Ape Escape, musically. While it's mostly generic by today's standards, and will get old kinda fast, there's a couple nice compositions in there, such as the forest area music (Breeze Time). The voice acting is pretty ok, but considering who they got for the main voices (including my current favorite English VA, Cristina Vee as Compa), I was expecting quite a bit more from it. I certainly could've used more distinction between the girls, as they all kinda just sound the same, and a couple of characters just sound lifeless. Repetition in voice clips did not help matters either.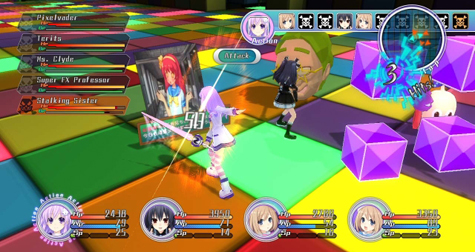 When it comes to gameplay, it's relatively inoffensive. While I feel coming off of Final Fantasy XIII, where they got the gameplay SO right as far as I'm concerned, may have clouded my judgement on this, after the first couple days of playing it, all I could feel was… bored, really. While it can feel a little like Resonance of Fate, particularly in regards to how the movement system works, it certainly isn't as exciting as that game is to watch or to play. Battles are slow and plodding at times, and after a while I found myself saying "oh come on, can we get this over with?".
My other big complaint gameplay-wise was the difficulty curve regarding bosses. While I understand bosses aren't supposed to be pushovers in any game, a few of them felt ridiculously overpowered, even with grinding. The last one I played, in Chapter 3, had an unavoidable (as far as I can work out?) one-hit kill attack he was using as his second attack. I'm not sure if this gets worse as the game goes on, though, as I stopped playing there. And as much as I'd like to say it was frustration over the boss, that's far from the case.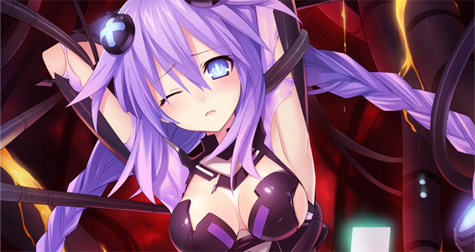 Remember how I mentioned feeling "weird" about this game earlier? It started right as I opened the package from the post office. The costumes for the girls, being as young as they are, were just a bit too disturbing for me, one of the very first cutscenes (and PSN trophies) you get is a scene with the girls from the first game practically being tentacle raped, the game goes on and on about "oh my god, lolis are so hot", and last straw was how the boss mentioned above acts.
Even through the 12-year-old pantyshots, through all the questionable cutscenes, even the rampant misogyny– through all of that, I kept saying to myself "I'll get through this; it can't really get that much worse". And then it did. Call me a pansy or whatever, but overt pedophilia in a game that's supposed to be lighthearted just doesn't fly with me. Hearing him spout such gems like "girls who've hit puberty taste old and rotten" and "I want to taste her purity" about a clearly preteen character, especially with other people around watching me play, was my breaking point. Once I got ganked by his one-hitter the fifth time (and heard that first godawful line again), I simply put the controller down and gave up. I don't like to review games when I haven't properly beaten them, but I felt ridiculously bored by the gameplay by that point, and I'd had enough of feeling dirty for playing this.
While I appreciate the various references scattered throughout (although they're not nearly as prevalent as expected), and while there were a couple bits that made me chuckle, or at times "d'aww", these were far outweighed by the overbearing creepiness. I'm sorry, maybe I just don't "get it", I guess. But honestly, I don't think I ever want to "get" what's so "hilarious" about little kids being violated.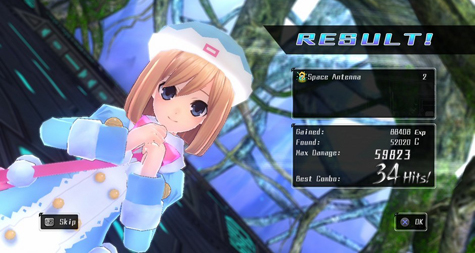 So there you have it. While it does a couple of things kinda okay, and at times you can tell there was potential for a halfway decent game deep down in there, it's not worth the time or the stupid amounts of money people are charging for it nowadays, especially when there's far better, far less creepy games out there. If you're looking for a good non-Final Fantasy PS3 RPG, go out and pick up Resonance of Fate instead.
A massive disappointment, Hyperdimension Neptunia Mk2 should've taken a hint from its namesake, and never existed.