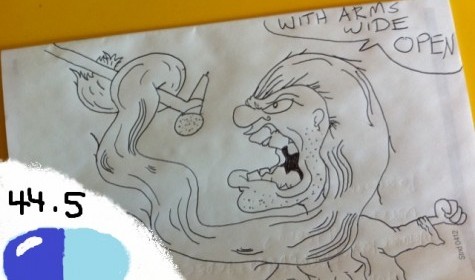 So how does that saying go? Something about the inmates taking over the asylum? Or something?
Well, this week on the Sega Addicts Kids Table, our regular head honcho Stevie Grant was out of the picture, and your good friends John Doherty and Josh Newey had free reign over the KT headquarters. While Stevie was off moving into his new home or something stupid like that, John and I did all we could to tear this empire asunder, as we rambled about sexual acts being performed on ears of corn, our new super group Three Creeds Back, and Stevie's terrifying Ghost Mom. To really drive our show into the ground, I also took the liberty of throwing in my own renditions of the staple Kids Table tunes, trading them out for what I like to convince myself is real music.
Oh, and amid all the terrible anarchy, I suppose we may have discussed a Sega news story or two. This week we chatted about Project X Zone's new characters and inevitable Japan-only destiny; the tragic closings of Sega's European and Australian offices; and Anarchy Reigns's recent 9-star Famitsu review. Huzzah.
So put on them headphones and join your friends Josh and John as we sink this ship with style.
If you dig what you hear, be sure to subscribe to us on iTunes, and while you're there, review us. I know everybody says that and you just shove it aside, so let me say it again: GIVE US A REVIEW. DO IT. NOW.