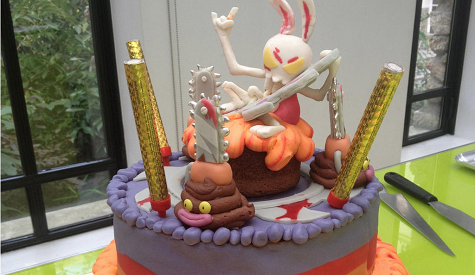 As it turns out, as well as being developers of the upcoming 2D action-adventure, bloodbath of a game Hell Yeah! Wrath of the Dead Rabbit, Arkedo Studios are also expert cake crafters. A recent Tweet by the French team showed the picture above, the full version of which can be found after the jump, and shows a radical looking cake featuring the Dead Rabbit himself along with the caption:
Woo, we made a Hell Yeah cake!!!
The slightly dangerous looking cake has also been adorned with liberal lashings of blood, a circular saw and… chainsaw wearing poos?
Poo always puts a smile on my face. Do you like poo? Let us know in the comments below!