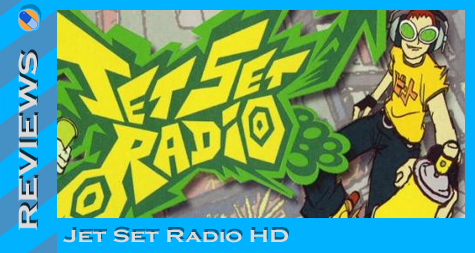 This entire month on the site has been one giant Dreamcast lovefest, and it goes without saying that, when you mention the Dreamcast, there's usually someone who will bring up Jet Set Radio. It was one of the most unique games Sega ever made, and while it's rare to see someone claim it as the greatest game ever, it still gets a lot of much-deserved love from fans. Despite the rather massive cult following, aside from guest spots for characters in the Sega All-Star games, Sega's never really revisited the franchise since 2002's Jet Set Radio Future.
Needless to say, the day Sega announced this re-release for HD consoles was met with a ton of celebration and hype. So much so, "Jet Set Radio" was a #1 worldwide trending topic on Twitter soon after Sega posted the teaser, the first time to my knowledge a Sega game has ever done such a thing. This release was a big deal, to say the least.
So after all these years, was it all worth the wait? Or does it tarnish our memories of a great game? Hit the jump, preferably with a flamboyant spin, to find out.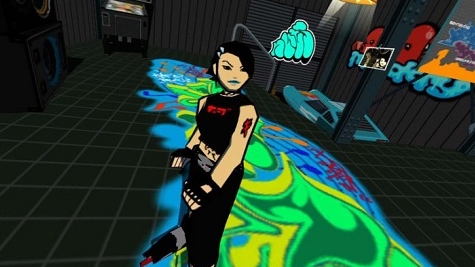 The biggest thing for most about the game was its ridiculously awesome art style, with some of Sega's best character designs, as well as level art. As a huge fan of this, I was seriously hyped about how nice it would potentially look in full HD, and couldn't wait to see it in action.
Sadly, that hype's gone a bit unfulfilled, as the graphics are a bit hit or miss. While it's nice and colorful as to be expected, aside from taking the time to make the game widescreen, nothing's really been upgraded. There's quite a bit of pop in, and textures disappear and glitch out pretty often. It doesn't even seem like the textures have even been remotely touched up for HD. A shame, honestly. I wasn't expecting a HUGE leap, but I was at least hoping for something on the level of Daytona USA's graphical touchups, with just a bit less pixilation.
As far as sound goes, come on. It's Jet Set Radio; we already know the soundtrack is one of the greatest of all time, and kudos to Sega for getting most of the original soundtrack back for this, as well as throwing in some bonuses from Future. While the voice acting remains unchanged and at times ripe for second-hand embarrassment for the actors, it has been cleaned up, it seems, for HD.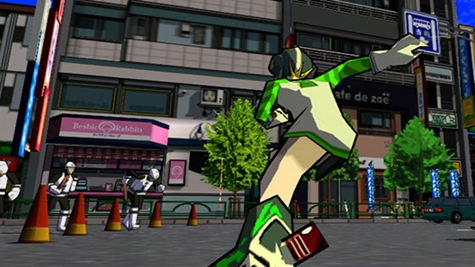 Playing it, however, was a very disappointing experience for me. You see, they've taken great care in making this a perfect port of the DC original, and they've succeeded, but a little too well. On one hand, it's Jet Set Radio just as you remember it. They've done good work in keeping things as familiar as possible, and if all you want is something on the level of a PS1 classic in that regard, this is right up your hastily spray-painted alley.
The problem with this is, along with every gameplay nuance they kept, they've kept every bug and problem from the original as well. Not to mention the surprising amounts of slowdown and pop-in present, which, for a 1999 game being put on a 2012 console, should be nonexistent. And despite adding camera control to the right stick, the camera is still a mess at times, especially during chase sequences. Trying to tag a gang member and ending up adjusting the camera instead, despite their "tag me" bubble being up, was one of the biggest sources of frustration for me. Also, this is just a personal bug, but not having a retry button? In a game like this in 2012? That's a massive oversight that shouldn't have happened, in my eyes.
In all honesty, it feels like all they did was upscale it, throw a documentary and JSRF music in, and call it a day. And if this were marketed in the same way as a PlayStation Classics line game, like God Hand or Tekken 2 or whatever, this would be more acceptable. But marketing it in the same vein as, say, Street Fighter II HD Remix, as the game you know and love but with several improvements, has turned this into a real disappointment. It doesn't help that the game sadly hasn't aged very well, at least in my opinion, either.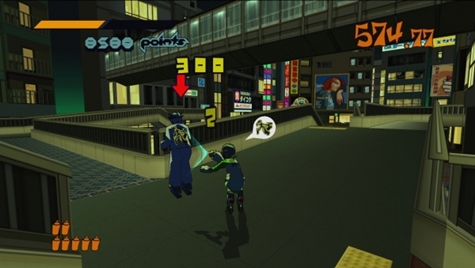 So we've come to an awkward point, in terms of rating and recommending this. I'm not sure whether to praise the job of the porting team, or curse Sega for not fixing the bugs and living up to the implications that this would be a full, polished release. I'm not sure how other Dreamcast games ported to the PSN fared in terms of bug fixing and such, as I've not played any of them to be honest, but at least those were treated more like, again, the PlayStation Classics line or like the various Genesis releases were instead of an "HD Remix".
So basically, it comes down to what you're expecting. If all you want is Jet Set Radio exactly as you played it all those years ago, with no real changes outside of upscaled visuals and achievements, go for it, you'll be pleased. However, if you're asking for a little more than that, or if you already have the game on the Dreamcast (in which case, you're really only paying ten bucks for the exact same game with a different screen ratio and a different controller, not worth it), you might be better off trying the free demo to see how you feel, or waiting for a price drop.
Either way, I'm glad to see the series get its name out there again, even if I was disappointed in this. Here's hoping a release for the always far superior Future is somewhere in Sega's plans.