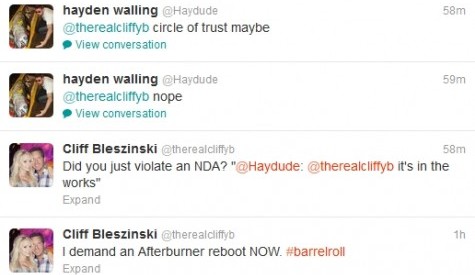 Never in a million years did I expect to see Sega's jet fighter classic Afterburner fall under the same headline as none other than Gears of War creator and Design Director at Epic Games Cliff Bleszinski. But that's just what's happening, as Bleszinski, in his trademark rockstar way, just put out a call on Twitter for an Afterburner reboot NOW.
In a surprising response, former Ubisoft employee and current game lead at Nike Hayden Walling replied that the game was "in the works." An oddly candid way to reveal anything for sure, but when Bleszinski asked if an NDA had just been violated, Walling simply responded with "nope," following up with "circle of trust, maybe."
So there you have it. Obviously, such unreserved Twitter conversation is rarely enough to validate any kind of release, and I can't really imagine someone being so open about a game like this in the works. Even so, I will latch onto this like a meek orphan clutching his safety blanket. If you played Afterburner Climax, you'd probably feel the same way–I want more.
[Source: The Six Axis]