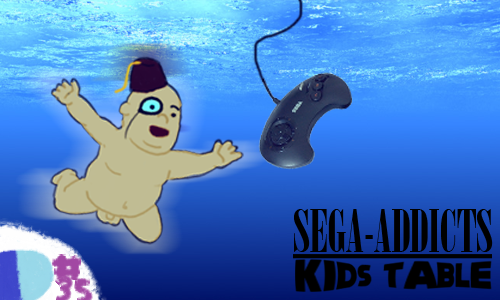 Well it's that time of the week again! Are you listeners ready for another thrilling episode of The Sega Addicts Kids Table? Are you hyped up to hear Stevie, John, and Josh talk about vaguely important Sega news for about an hour? No? Well get out of here and bring in the real fans, goddammit! I'll wait until you're gone.
Is that guy gone? Ok awesome. So anyways in this frankly gross episode we tackle the very serious topic of just what's been going on with Sega's financial status as of late (it's a lot of talk about rumors to be honest), and the more positive topic of the Sega Ages collection! Well it's mostly talk about the former so get strapped in guys. It's kind of grim.
Or visit our iTunes and click that 'subscribe' button! Review us and the world will be saved probably!
Oh and special thanks to Jiggerstick for the awesome header!