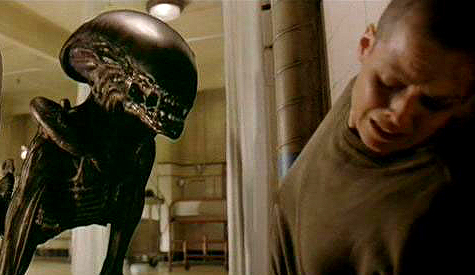 It looks like Gearbox have used the E3 2013 hubbub to fly their new Aliens: Colonial Marines "Move Map Pack" DLC straight under the radar. The DLC contains new multiplayer maps based on locations from Alien, Aliens and Alien 3, and… Nowt else.
Interestingly Gearbox have stated that the fourth piece of DLC will be a campaign add-on. Perhaps we'll find out how Bishop and Hicks managed to be in two places at once. Ugh…
The Aliens: Colonial Marines Move Map Pack DLC will be released on PlayStation 3, Xbox 360 and Steam today, and tomorrow for European PlayStation 3 owners. The official Gearbox forum post can be read in full after the jump.
[Source: AvP Galaxy]
The Movie Map Pack, an all-new add-on for Aliens: Colonial Marines, is headed to PC, PlayStation 3, and Xbox 360 next week. The Movie Pack features two all-new Deathmatch / Extermination maps, one new Survivor map, and an all new Escape map. All maps are based on locations from classic Alien movies: Alien, Aliens, and Alien 3.

– The two new Team Deathmatch and Extermination maps feature locations from Aliens & Alien 3 – 'Fury 161' takes place in the run-down prison facility as seen in Alien 3, while 'Processor' puts you in the heart of the Alien hive from the Atmospheric plant in Aliens.

– The new Survivor map, 'Nostromo', features marines defending themselves against Xenos inside the iconic spaceship from Alien.

– The new Escape map, 'Exodus', is situated on the doomed Sulaco. Marines awaken from cryo-sleep and must navigate their way to escape pods whilst under Xeno attack.

The Movie Map Pack will be rolling out on all platforms beginning June 11th (June 12th for PlayStation 3 players in Europe) and will be available individually or as part of the Aliens: Colonial Marines Season Pass, a bundle that includes access to the previously released Bug Hunt add-on and the Reconnaissance Pack as well as an upcoming campaign add-on